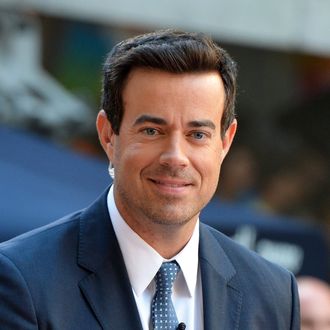 Photo: Slaven Vlasic/Getty Images
Now the second-place morning show after two decades on top, Today is getting a makeover. NBC's revamped Studio 1A will include what they're calling the Orange Room, a "first-of-its-kind digital studio," where Carson Daly will handle social media responsibilities. "I'm really excited to meet Today viewers — I want them to tweet at me and to look at the Orange Room as their room," said the 40-year-old former TRL host in an announcement.
Daly will continue to host The Voice and his morning radio show — keeping up with Ryan Seacrest — while "a transition will be announced at a later date" for his late-night show Last Call. Daly deployed two different metaphors to get across how excited he is "to help build the future of Today and serve as the bridge between viewers and the show." Behold:
"You know that scene in Willy Wonka & the Chocolate Factory, where Charlie peels back the wrapper and finds the golden ticket? I felt like I got the golden ticket," he said. But also: "I was playing in the minor leagues and now I've just been called up to the big leagues." Now batting for Today, Charlie Bucket.