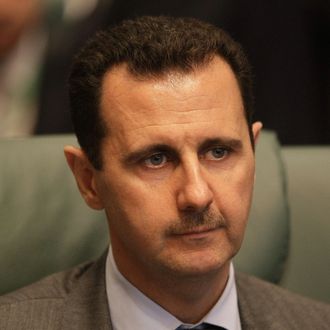 Photo: JOSEPH EID/2010 AFP
PBS's Charlie Rose sat down for a chat with Bashar al-Assad in Damascus on Sunday morning. The conversation — the Syrian president's first interview with an American television network in nearly two years — will be broadcast in its entirety on Rose's Monday night show, though portions of it will play across various CBS platforms throughout the day. After speaking with Assad, Rose flew to Beirut and called in to CBS's Face the Nation to give the world the gist.
Rose told host Bob Schieffer that Assad unsurprisingly maintained that his regime had not used chemical weapons. "[Assad] denied that he had anything to do with the attack. He denied that he knew there was a chemical attack, notwithstanding what has been said and notwithstanding the videotape. He said there's not enough evidence to make a conclusive judgment," Rose said. After Rose read the Syrian president part of today's New York Times story on Syria's chemical weapons arsenal, Assad "said I cannot confirm or deny that we do have them. He did, however, say that if in fact we do have them — and I am not going to say yes or no — they are in centralized control and no one else has access to them."
According to Rose, Assad went on to suggest that Syrian opposition had "something to do" with the August 21 gas attack and challenged Washington to "show that evidence and make their case" that he was responsible. Assad said "he did not necessarily know whether there was going to be a military strike. He said they were obviously as prepared as they could be for a strike." Assad also threatened "some kind of retaliation if a strike was made," though he wouldn't elaborate on "the nature of the response." Rose said there was "a clear sense that they are closely watching what is happening in Washington," which is why he believes Assad agreed to do an interview today. That sounds about right: President Obama's Monday schedule includes six network interviews about the need for action in Syria, and he will address the nation about the situation on Tuesday. Meanwhile, Congress returns from summer recess tomorrow, which means Obama's official uphill battle to get authorization for a strike can finally begin.