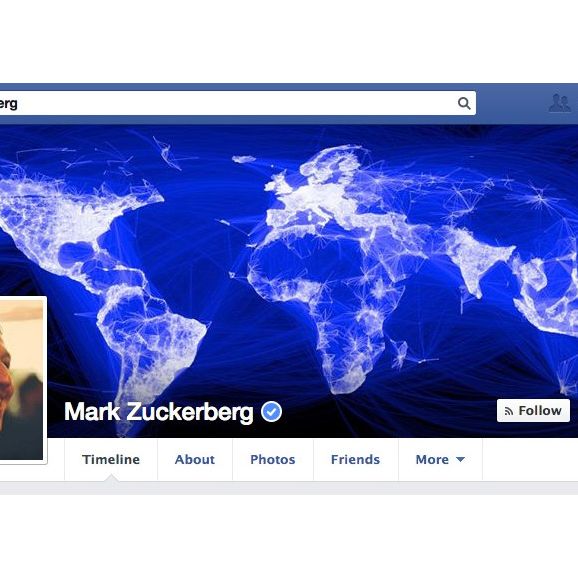 On Monday, Mark Zuckerberg uploaded a new cover photo (shown above) to his Facebook profile. The photo showed a glowing map, tracing all the Facebook friendships that exist around the world, with bright white spots in North America, Europe, and South America, and off-white areas in Africa, India, and the Pacific Rim. There was only one dark blue spot on the map: mainland China, where Facebook and Twitter have both been banned since 2009.
Yesterday, Zuckerberg's hopes of brightening that spot got a boost when the South China Morning Post reported that China was set to lift its ban on Facebook (as well as its ban on Twitter and the New York Times) within the Shanghai Free-trade Zone. Tech blogs exploded with hope of a Chinese society connected to the world's biggest social network. Think of the user growth! 1.3 billion Chinese, all posting on their timelines!
The bad news is that the Facebookization of China may never happen. And, indeed, the latest news may be little more than a tease.
The China problem has been a sore spot for Zuckerberg, and it's easy to see why. No matter how many new features Facebook rolls out, no matter how slick its mobile apps are, those 1.3 billion potential Chinese users are trapped behind a government firewall, where they can only access Facebook by tunneling though a VPN or using other illicit means. As hard as it tries, Facebook can't hack its way to growth in China; it can only be let in through the front door. And that bothers a company whose goal is total world domination.
"How can you connect the whole world if you leave out 1.6 billion people?" he said in a 2010 interview.
Idealism aside, Facebook needs China for business reasons, too. The company's growth, which is slowing in the U.S., is increasingly coming from Asia. As the below chart shows, Facebook added 165 million monthly active users in Asia between July 2011 and July of this year, compared to only 29 million users in the U.S. and Canada. Getting even a fraction of China's population addicted to Facebook would put to rest fears some investors have that Facebook has simply gotten as big as it can get.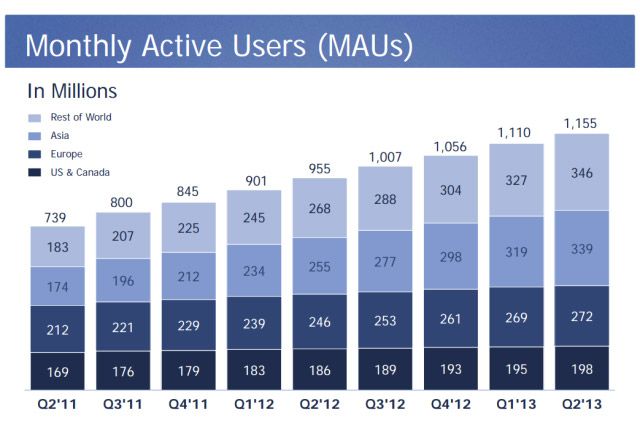 Facebook's Chinese hopes seem to lie in the Shanghai Free-trade Zone, a 29 square kilometer capitalist playpen where the government's usual rules limiting international commerce will be relaxed, as they are in Hong Kong. The zone, which is set to open on Sunday, is meant to spur foreign investment in China and signal to the rest of the world that the second-largest economy on Earth is indeed reforming. And Facebook boosters hope that if the Shanghai pilot project goes well, it could mean being allowed in the entire country someday. Facebook COO and Leaner-In-in-chief Sheryl Sandberg recently traveled to Beijing to meet with Chinese government officials, leading some to speculate that the country was open to the idea of a free-to-Facebook citizenry.

But skeptics abound. One of them, Jeremy Goldkorn, the founder of Danwei, a research firm focused on Chinese media, characterizes the Chinese government's allowance of Facebook inside the free-trade zone as a head-fake, meant to distract from recent harsh crackdowns on online expression elsewhere in the country.
"It means nothing at all," Goldkorn told Daily Intelligencer. "It's all PR for the free-trade zone. The fact that there might be one place in China where it might be slightly easier to get on Facebook doesn't mean a thing."
Goldkorn, and several others we contacted, noted that the South China Morning Post's report appears came from unnamed government sources, who may have been trying to spur positive publicity for the free-trade zone's launch next week. "In order to welcome foreign companies to invest and to let foreigners live and work happily in the free-trade zone, we must think about how we can make them feel like at home," one source told the paper. But they noted that no official announcement has been made.

Of course, even if Facebook is allowed within the Shanghai zone, getting China's billion-plus citizens onto the social network isn't as simple as being allowed free reign over 29 square miles. Non-Chinese companies are still required to form joint ventures with Chinese companies to be able to operate on the mainland, and many licenses have to be approved by various state agencies. Plus, there's no guarantee that Facebook would be popular with Chinese citizens, who have their own slate of social-networking sites to choose from.
Facebook, for its part, isn't talking about its Chinese strategy — a spokeswoman for the social network declined to comment. But if the company is hoping that its toehold in Shanghai will expand to the rest of the country, it should probably hedge its bets.
"I'd predict a revolution sooner than them really opening Facebook," Goldkorn said.