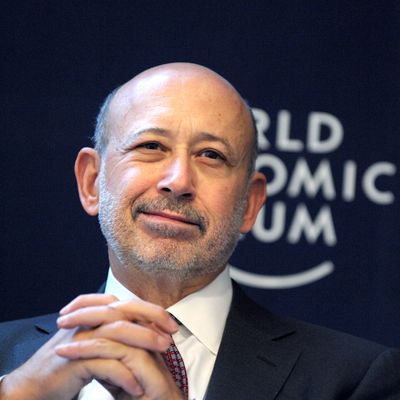 Lloyd Blankfein: probably allowed to keep his Goldman account.
Photo: AFP/Getty Images
For years, a perk of working at Goldman Sachs was getting to keep your personal stock portfolio and other financial holdings inside the firm's prestigious asset-management division. Whether your Goldman salary was $50,000 or $50 million, your relationship to the firm entitled you to the same banking privileges as any high-net-worth Goldman client, even after you'd left or retired. The message sent by this gesture was simple: We take care of our own.
Recently, though, Goldman has been forcing employees with less money to move their holdings to Fidelity Investments, into brokerage accounts similar to the ones available to the general public. The move has, in effect, separated Goldman's ultrawealthy alumni from its merely well-off, and angered some who feel slighted by the firm's new, two-tier system.
According to several ex-employees, Goldman began the transition earlier this year, by requiring employees with less than $1 million in assets at the firm to pay a $3,000 annual fee to keep their Goldman accounts open. Later, it sent a letter informing account holders under the limit that they would be forced to move their accounts by the end of 2014. Now callers to the firm's 800 number for employee financial services are greeted with a message: "Please press 1 if your call is regarding the Fidelity migration."
"The platform we've developed is for a high-net-worth customer," a person familiar with the situation told Daily Intelligencer. "A huge chunk of the people who work for us do not fall into that category."
Goldman spokesman David Wells said that the new policy applied to current employees as well as former ones, and that it "ensures these current and former employees receive the right tools and services."
Goldman has long helped its employees with their personal finances. For years, Goldman partners could have their taxes prepared by the firm's accountants, and some employees were given home mortgages through special arrangements with the firm. Those benefits were often extended to lower-level employees. (For example, all Goldmanites were given shares in the firm's 1999 initial public offering.) But as Goldman grew — from 13,000 employees at the time it went public in 1999 to more than 30,000 today — the perks have dwindled.
Employees at Goldman were once required to hold their assets in house for compliance reasons. But a recent arrangement allowed Goldman to shift accounts of current and former employees off its platform and into a "broker of choice" arrangement with Fidelity. Younger former employees, who often make much less money than Goldman's typical private wealth clients, have been caught by the change, though older alumni who have most of their money invested elsewhere have also been forced to meet the $1 million mark or move.
Banking with Goldman confers certain advantages, such as access to research by Goldman's analysts, trade execution services, and a dedicated customer service line. For former employees, much of the appeal of remaining with the firm's private wealth managers is familiarity, and a certain snob appeal.
"There's cachet associated with having your accounts at Goldman," said one former employee who has more than $1 million invested at the firm and is therefore not being required to switch accounts. "But they probably have 20,000 ex-employees. I think it's a pain for them to manage all those accounts for very little revenue."
Some former employees whose assets fell below the million-dollar mark said they didn't mind being kicked out of Goldman's private bank, since the services offered by Fidelity and other money managers were better suited to their needs.
"Personally, I don't really care," one former employee said. "It's nice to get access to Goldman Sachs research, but the online private wealth management platform is pretty bare-bones."
Still, others balked at learning that Goldman no longer considered them worthy clients.
"No one wants to be told, 'Your $500,000 isn't good enough,'" one former employee said.