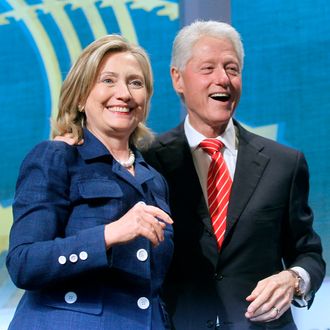 DALLAS, TX - APRIL 25: Former first lady and former Secretary of State Hillary Rodham Clinton speaks with her husband former president Bill Clinton as they attend the opening ceremony of the George W. Bush Presidential Center April 25, 2013 in Dallas, Texas. The Bush library, which is located on the campus of Southern Methodist University, with more than 70 million pages of paper records, 43,000 artifacts, 200 million emails and four million digital photographs, will be opened to the public on May 1, 2013. The library is the 13th presidential library in the National Archives and Records Administration system.
Photo: Mario Tama/2010 Getty Images
"We don't sit around all the time talking about this. We swim in the late afternoon every day. And if either one of us even mentions a political topic we will stop the other one and just talk about the weather or whatever … We talk about political topics, not only in the sense that we obviously discussed this horrible shooting in Kenya and what happened at the Navy Yard and the Syrian difficulties and all of that, but we don't talk about 'politics' politics as much as people think." – Bill Clinton explains that if he and Hillary are on your fantasy dinner guest list, you should be prepared to talk about the weather.