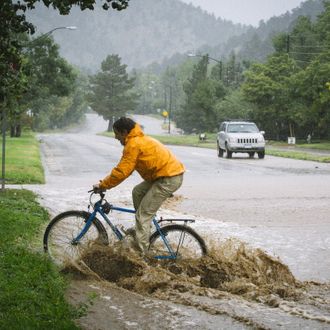 The four days of rainfall that struck Colorado this past week left the state with intense, widespread flooding unlike any seen for nearly 100 years — Boulder's wettest calendar day was previously July 31, 1919. Earlier Saturday, the Denver Post reported that a fifth person died as a result of the storm, with Boulder County alone calling on as many as 800 rescuers to reach their residents, including those 172 people who are remain unaccounted for. So far, mandatory evacuation areas include the towns of Orchard, Goodrich, Weldona, Muir Springs, and Jamestown.
National Guard Master Sgt. Cheresa Theiral told the Associated Press nearly 800 people have already been evacuated, with the Red Cross adding that more than 700 folks spent Friday night in shelters. Though Interstate 25 to Wyoming recently reopened, the surge of water reaching plains east of the mountains are still cutting off narrow canyon roads, meaning rescuers aren't able to get to some communities. Helicopter teams are running as many missions as possible, with still more inflatable boat and horseback crews getting families and pets to safe ground before another round of rain is expected to hit through the weekend. 
Entering ravaged areas in search of survivors Saturday, officials around the state issued stern warnings to those residents who plan on remaining in their homes. "We're not trying to force anyone from their home … but we're trying to be very factual and definitive about the consequences of their decision, and we hope that they will come down," Boulder County Sheriff Joe Pelle said.
While Pelle's words are certainly being heard, some Colorado residents are determined to stay put, likely in makeshift shelters and without power. "I have a lot of training in wilderness survival … If we hike back, I would stay there and just live. I'd rather be at our own house than staying at some other people's houses," resident Brian Shultz said of leaving his Jamestown home. He also told the AP "he probably had enough beer to last the whole time."