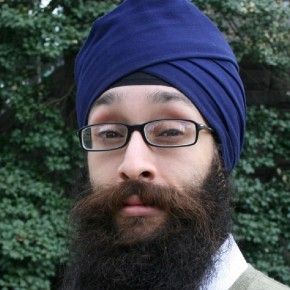 Photo: Columbia University/Courtesy shot
Continuing this year's disturbing trend, an attack on a Columbia University professor in which a group of "at least 20 young males" accosted him and beat him appears to be yet another hate crime. Prabhjot Singh, a professor at Columbia's School of International and Public Affairs and an observant Sikh, was taking a walk on 110th Street near Lenox Avenue after dinner on Saturday night, when his attackers, who were on bikes, "surrounded him and started punching him," calling him "Osama" and "terrorist," Singh's friend Simrat Jeet Singh (no relation) told The Columbia Spectator. "He described being punched in the face repeatedly until falling to the ground. And then he recalled how the punches to the head continued as he laid on the sidewalk," Jeet Singh wrote on Huffington Post.
In a touch of dark irony, Singh has been active in trying to call attention to hate crimes against Sikhs. He co-authored a New York Times op-ed last year (along with Jeet Singh) calling for a change in the FBI's crime-reporting system, which classifies "nearly all hate violence against American Sikhs as instances of anti-Islamic or anti-Muslim hate crimes." The bureau generally assumes those attacks on Sikhs are usually cases of mistaken identity, but Singh pointed to a number of targeted attacks on Sikhs, arguing that without clearer record-keeping, the problem was impossible to track.
Regardless of whom the attackers thought they were beating up in this case, the attack adds one more instance of bias-motivated violence to 2013's already crowded list.