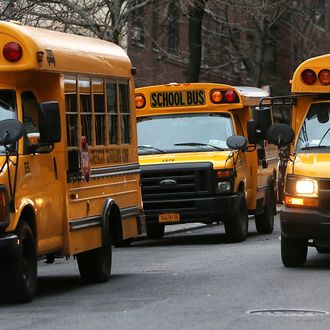 Photo: Mario Tama/Getty Images
The Department of Education released some hopeful statistics on Saturday to the New York Civil Liberties Union: During the last school year, New York City school-safety agents arrested 34 percent fewer students than they did the previous year, and summons dropped by more than half. There was a 14 percent decrease in major felony crime, and a 28 percent decrease in violent crime. However, the numbers show black and Hispanic students accounted for almost all of the citations, though they only make up only 70 percent of students enrolled in public schools.
NYCLU executive director Donna Lieberman noted the organization is "pleased" with the decrease but still expressed concern at the racial discrepancy. "We're mindful and concerned that the arrest figures for the quarter remain as high as they were last year and the racial disparities in the arrests persist," she said, adding that the arrests from April to June (203) were only ten fewer from the same period last year. As kids head back to class, here's hoping schools can log fewer than last year's 579 arrests.