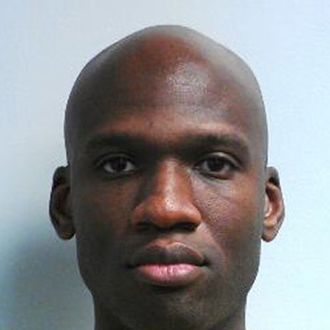 Aaron Alexis.
Photo: Handout/2013 FBI
Aaron Alexis, the man who allegedly killed twelve people at the Washington Navy Yard before dying in a gun battle with police on Monday, was a 34-year-old former Navy reservist, who was discharged in 2011 due to "a pattern of misconduct." In 2004, he was arrested for firing out the tires of a car parked near his Seattle home. He told police he didn't remember at first because he had "a black-out fueled by anger," and his father said he might have PTSD. In 2008, he was arrested for disorderly conduct in Georgia. Then in 2010, he was arrested again after firing a shot through his upstairs neighbor's floor. While one might think that at least one of these facts would raise a red flag during a background check, officials say Alexis recently obtained security clearance to enter the Navy Yard, and may have even purchased firearms within the past few days.
While he had been arrested in three states, it appears Alexis was never tried. Apparently there was no follow-up on the car incident because police lost the paperwork. "That report never got to the Seattle city attorney's office," Kimberly Mills, a spokeswoman for the city attorney, told the Washington Post. "Consequently, we never filed charges." Following his 2008 disorderly conduct arrest, Alexis spent two nights in jail, but Georgia police had no other details. While his upstairs neighbor told police she was "terrified" and felt the shot was fired intentionally, the district attorney said in a statement today, "it was determined that the elements constituting recklessness under Texas law were not present and a case was not filed."
There were other consequences. Alexis's Fort Worth apartment complex began eviction proceedings, and one Navy official said the gun incident was part of the reason Alexis was given a "general discharge" in January 2011, a classification that often indicates a blemished record.
Nevertheless, Alexis was recently hired by The Experts, a Hewlett-Packard subcontractor, as an hourly tech employee working on updating Navy and Marine Corps computer systems. He was set to start work at the Navy Yard this month, and despite earlier reports that he had a stolen ID card, the FBI says Alexis had "legitimate access" to the facility. "He did have a secret clearance. And he did have a CAC (common access card)," Thomas Hoshko, CEO of The Experts, told Reuters, explaining he was just rehired after a stint in Japan last year. "Another background investigation was re-run and cleared through the defense security service in July 2013."
Sources tell NBC News that in addition to his run-ins with the law, Alexis had been treated several times for psychological issues, including sleep deprivation, anger, and paranoia. Most recently, he was seen by doctors at a VA hospital in New England. Alexis had been hearing voices in his head, the Associated Press reports.
Alexis still managed to purchase some of the weapons used during the rampage in the past few days, according to USA Today. There's no word yet on whether Alexis had to pass a background check to obtain the firearms, but as discussed during the failed attempt to pass stricter gun-control laws earlier this year, millions of people who've been declared mentally ill never make it into the FBI's database.
Coincidentally, a report set to be released this week may shed some light on how Alexis obtained clearance from the military. Time reports that a government audit started a year ago found that in an attempt to cut costs, the Navy "did not effectively mitigate access-control risks associated with contractor-installation access" at the Navy Yard and other facilities. As many as 52 convicted felons were given security access, "placing military personnel, attendants, civilians in installations at an increased security risk."