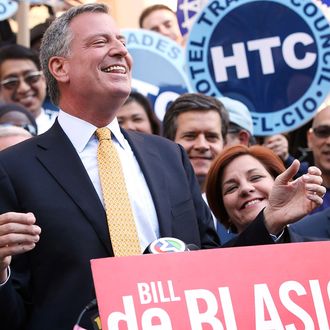 Democratic mayoral front-runner Bill de Blasio attends a "rally for progressive change" where he received endorsements from more than 25 progressive leaders and organizations on September 12, 2013 in the Brooklyn borough of New York City. Bill Thompson, who came in second in the Democratic primary, has so far refused to concede to de Blasio until it is confirmed by the election board that de Blasio got 40 percent of the vote.
Photo: Mario Tama/2013 Getty Images
Earlier this week, Bill de Blasio's spotty City Council papers revealed that he's soft on double-parking, and now the Post reports that he "made it a 'high priority' to help political pal Dan Cantor of the left-leaning Working Families Party reduce a water bill" in 2006. Cantor was charged an outrageous-sounding $8,989, and de Blasio just wrote "high priority" in a short e-mail to a staffer; he didn't necessarily spend days working on the issue. Even if de Blasio did spend too much time fighting friends' minor tickets and erroneous bills, it probably isn't the scandal Joe Lhota is looking for.