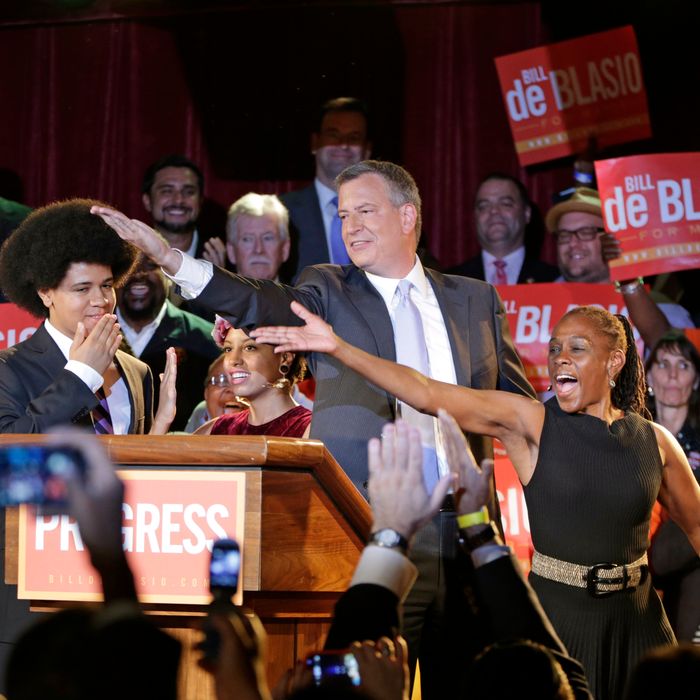 The de Blasios demonstrate "The Smackdown."
Photo: Kathy Willens
Bill de Blasio and his family did their signature "Smackdown" dance routine, blew kisses in unison, and generously worked the rope line that could barely contain a diverse crowd of supporters in The Bell House, an elegantly gritty Gowanus bar, on Tuesday night as the progressive mayoral candidate trounced his rivals and was suddenly on the cusp of a November showdown with Republican and Giuliani administration veteran Joe Lhota.
The scene started to come together on the street outside around 8 p.m., and it was decidedly New Brooklyn — press and activists enjoying a playlist that included LCD Soundsystem and Mumford & Sons while snacking on artisan pizza and lobster rolls being served by a Smorgasbord-esque assortment of gourmet food trucks. The "plebeians" – as one supporter sarcastically referred to his fellow de Blasio fans, annoyed at the strict ticketing policy keeping many from passing through the door – were not able to enjoy the open bar that was available to "VIP" supporters (presumably donors and staff) in a blocked off lounge inside.
"We were with him before he was big," grinned Cory Conley, a playwright living in Washington Heights, gesturing to his pal Edgar Landas, a business analyst from the Upper East Side. De Blasio's meteoric assent from hipster candidate to likely successor to Mike Bloomberg has seemed to catch even some of his most devoted supporters off guard. "We were looking for an anti-Quinn candidate, but after the Weiner implosion we were pretty solid for de Blasio, just like every other New Yorker I guess."
By the time Sex and the City star Cynthia Nixon had addressed the crowd assembled inside and 1199 SEIU President George Gresham had introduced de Blasio's daughter Chiara, the family was ready to claim victory.
"Some of you may already be familiar with my brother Dante," Chiara, wearing an array of pink roses over her forehead, joked, earning bellows from the crowd. "My brother, my little brother, may look good on TV – but there's only one de Blasio who got to vote for her dad today," she said, referring to the TV spot (played on the massive projector screen on the stage repeatedly before the family arrived) that helped drive de Blasio's surge. Chiara proceeded to give a serious stump speech on behalf of her father, dismissing criticism from Mayor Bloomberg and others that he has somehow unfairly benefited from having a biracial family by pointing to his broad support across the city.
"The work will be over soon, but we still have a ways to go. And if we do our job right, our family of 8.4 million will reunite and nobody will be turned away!"
"De Blasio, Bill! De Blasio, Bill!" the crowd strangely began chanting as the candidate took the stage, switching later on to "Mayor Bill!"
"You made this campaign a cause, and I say thank you for elevating it to that level," Bill de Blasio said to cheers. He proceeded to lavish praise on his wife and children, and when someone in the throng yelled out, "We love the fro!", the crowd delighted in Chiara poking at Dante's afro.
"In her enthusiasm Chiara just attempted to touch the hair," de Blasio said to laughter. "Security was ready to intervene."