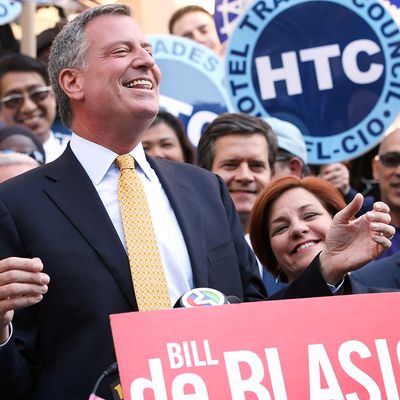 Giddy.
Photo: Mario Tama/2013 Getty Images
New York City, where registered Democrats outnumber registered Republicans six-to-one, has not elected a Democratic mayor since 1989. Enjoy that piece of electoral trivia while it lasts, because, according to the first poll of the general election matchup between Bill de Blasio and Joe Lhota, this one isn't going to be close.
De Blasio is crushing Lhota 65 percent to 22 percent in the WSJ–NBC New York poll of 632 likely voters released this evening. He leads among every demographic group and in every borough, and is pulling in a higher percentage of Republican voters than Lhota is pulling in Democratic voters. De Blasio bests Lhota on every issue, from schools to crime to taxes to best beard, and De Blasio doesn't even have a beard. That's how big of a shellacking this race is right now.