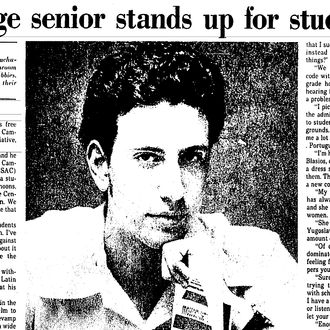 Not much has changed for Bill de Blasio beyond his name. Although he was known then as Warren "Bill" Wilhelm Jr., the Cambridge teenager already had liberal ideas about social justice and inequality, as detailed in the Boston Globe today. It's actually not De Blasio's first profile in his hometown paper: His dedication to student government was enough to get him featured in 1979, as pictured above, before he was a twentysomething radical and possible pothead.
"One teacher recalled that students hummed 'Hail to the Chief' when de Blasio walked into class," the Globe reports in 2013. "He was nicknamed 'Senator Provolone,' in a nod to the generous Italian sandwiches he would bring to lunch and to his 'overweening investment in political life.'" It was always that way.
"I remember that I kept asking about school policies and I couldn't find out," he said as a teenager, as quoted in the Globe article "Cambridge senior stands up for students," published January 2, 1979.  "It was when I was in the 6th grade, and I was talking back to then-President Nixon while I was listening to him on television and disagreeing with his economic and Vietnam policies and all the inequalities happening to people that I suddenly thought, 'Why am I complaining instead of doing something about unfair things?'"
"He gets through to students and adults because he's very down to earth. He's an extremely good listener and a very organized worker," said a dean at the Cambridge Rindge and Latin School at the time.
De Blasio, 17 years old and already serving on various councils and commissions, added, "I'm definitely interested in government," as if anyone couldn't tell.