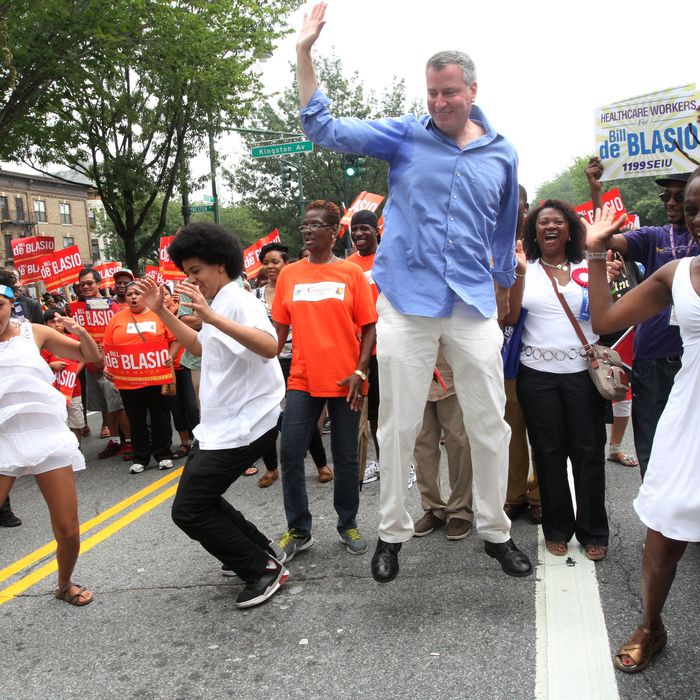 The moves of a confident candidate.
Photo: Tina Fineberg/AP
Here's one thing you can say for sure about the Quinnipiac University Polling Institute: It's doing a fabulous job of generating publicity for itself this mayoral season. Today, one week before primary voting day, Q is out with a survey showing Bill de Blasio at 43 percent — which would win him the Democratic nomination outright, eliminating the need for a runoff on October 1 and completing a stunning turnaround from early July, when De Blasio was mired in the mid-teens and fourth place.
Are the new numbers right? Well, the survey was conducted in part over Labor Day weekend, which makes its results more dubious, and De Blasio's rivals can poke legitimate holes in other aspects of Quinnipiac's methodology. The Times' Michael Barbaro smartly points out that the 43 percent includes undecideds who "lean toward" de Blasio, something other surveyors don't do, and a poll by Mike Berland for amNewYork–News 12 released last week showed a much tighter, more volatile race, with De Blasio ahead of Thompson by a mere five points. Even De Blasio's camp doesn't believe his lead is quite as big as today's numbers.
Yet. Because today's poll will drive new free media coverage of De Blasio's momentum, which will probably stoke more momentum, it will increase the chances that Quinnipiac will turn out to be right next Tuesday. The public advocate has been boosted once already by the media multiplier effect: A switch from measuring registered to measuring likely voters made De Blasio's mid-August surge look even more powerful, fueling helpful headlines.
But a week is a long time in this election. Mailers and TV ads will be inundating voters from now on. The dailies are stepping up their skepticism of De Blasio. And tonight's candidate debate, at 7 p.m. on WNBC, will give Christine Quinn and Bill Thompson their last best shots at attacking the front-runner face-to-face in front of a large audience. Though both have been attacking De Blasio relentlessly for two weeks now, with very little to show for it: According to Quinnipiac, Thompson is stalled at 20 and Quinn slid from 21 to 18.
The only numbers that count will be tallied next week, but De Blasio, by targeting the liberal Democratic primary electorate and pounding on what it dislikes about Michael Bloomberg, has clearly captured something real in voters' imaginations. Or maybe all this tortured analysis is a waste of time. Maybe New Yorkers just want to see more of the De Blasio family "shakedown" dance.