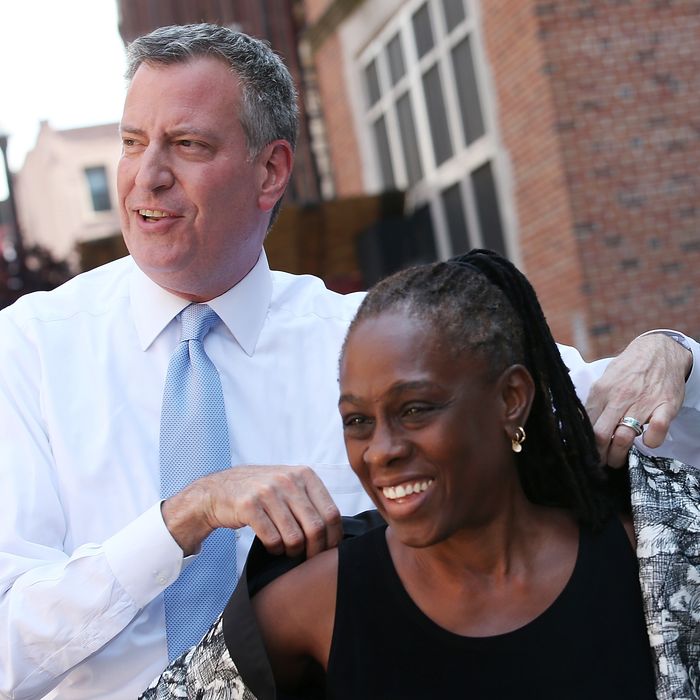 Photo: Mario Tama/Getty Images
Michael Bloomberg said many interesting things in his exit interview with New York's Chris Smith, but the comment that is getting the most attention right now is the mayor's claim that Bill de Blasio is running a "class-warfare and racist" campaign by prominently featuring his black wife and mixed-race children. "I mean he's making an appeal using his family to gain support. I think it's pretty obvious to anyone watching what he's been doing," Bloomberg said. "I do not think he himself is racist. It's comparable to me pointing out I'm Jewish in attracting the Jewish vote. You tailor messages to your audiences and address issues you think your audience cares about." (His explanation for the "class-warfare" bit is here.) The inflammatory criticism does seem to be an inadvertent gift to de Blasio, who has surged to the front of the polls by marketing himself as the anti-Bloomberg. (Or perhaps Bloomberg has been a left-wing sleeper cell all along.) This afternoon, De Blasio responded to the remarks with his wife, Chirlane McCray, and 18-year-old daughter Chiara standing behind him.
"We have run a campaign about the ideas, about the issues, about how to move the city forward, and I'm very proud of that. I'm exceedingly proud of my family. And as you'll know, meeting every member of my family, they are each and every one strong and independent and make their own decisions. And we all have proceeded as a family together, and it's been an extraordinarily positive experience for us," he said. "So all I can say is I hope the mayor will reconsider what he said. I hope he'll realize that it was inappropriate. And I think the people of this city are ready for us to move forward together." 
The New York Daily News recorded his full statement:
After de Blasio spoke, a reporter asked him a question about using his family as a "prop," and McCray jumped in. "Do I look like an inanimate object or a tool?" she asked, according to the Daily News. "I walk, I talk, I make my own decisions." Chiara added, "Everything I do for the campaign is my decision. And I think that, or at least I suspect … 20 years ago my dad did not know he was running for mayor and he did not seek to marry a black woman to put her on display." Capital New York got video of that:
And McCray tweeted at Bloomberg:
Bloomberg's words also required Bill Thompson and Christine Quinn to perform the undoubtedly irritating task of defending their rival on the Saturday before the primary. "There is so much about what Mayor Bloomberg said that is offensive and callous, particularly his comments about the poor," Thompson said in a statement released to Politicker. "The Mayor is so out of touch and doesn't get the struggles that low income and working class families face in this City. And as our school system continues to fail our children, it is shocking he still defends his appointment of Cathie Black. I am going to set a new path for this City from day one as mayor."
Meanwhile, Quinn (whom Bloomberg tacitly endorsed in the interview) told reporters, "I think the mayor's comments are extremely unfortunate. I totally disagree with him, totally disagree." When asked if she thought Bloomberg had just given de Blasio a boost, she responded. "Forget the politics for a second…I don't think the mayor should have made those comments. I don't think they should have been made and I think they were unfortunate." We believe she means it.