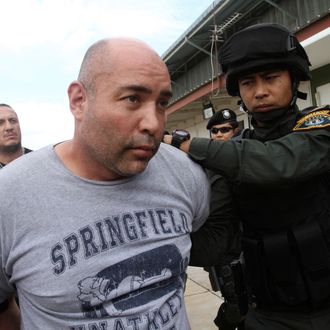 Photo: Sakchai Lalit/Corbis
A former Army sergeant named Joseph Hunter, who once trained snipers, chose a post-military life in private-sector security, as many ex-soldiers do. But according to federal prosecutors in New York, Hunter, whose nickname was Rambo, chose to play for the other team, arranging executions for drug traffickers and other such unsavory types. DEA agents and their Thai and Liberian counterparts this week arrested Hunter in Thailand and two other ex-soldiers (one American and one German) in Liberia for allegedly agreeing to assassinate a DEA agent and an informant in Liberia at the behest of what they thought was a Colombian cartel. The New York–based prosecutors also charged the ex-soldiers with conspiracy to import cocaine.
The would-be hit men were told they would receive $800,000 for the Liberia job and eventually, per Hunter, "millions of dollars and tons of cocaine." Turns out the cartel members were DEA informants, and the surveillance and security assignments they fed Hunter ahead of the alleged assassination plot were all part of an operation to nail them. Chillingly, U.S. Attorney Preet Bharara said investigators believed Hunter had previously arranged for the murders "of hundreds of people." We have said here before that all hit men are undercover cops, but that apparently wants updating: All hit men are undercover cops unless they're real and the client is an undercover cop.