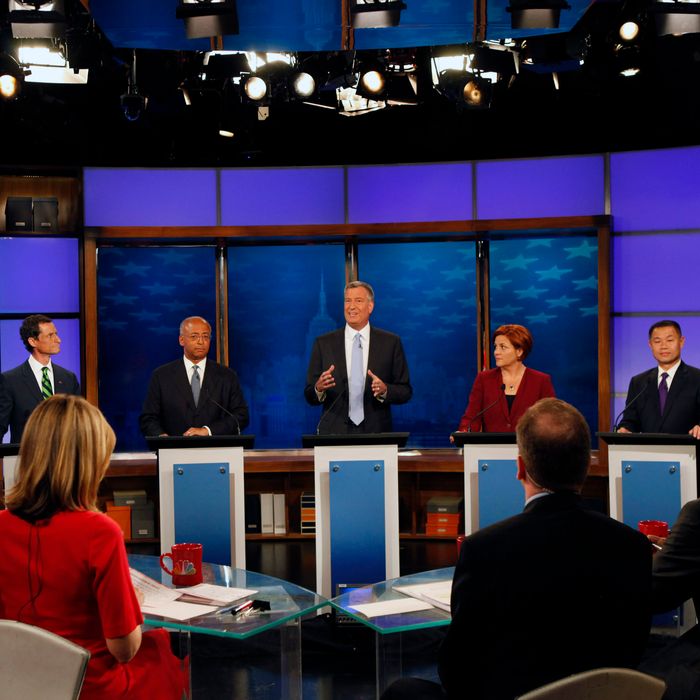 Bill de Blasio being tall.
Photo: Pool/2013 Getty Images
Least Dire-Sounding Stories About a "Recent Example of Your Own Personal Struggle to Get By," in Descending Order of Direness:
5. John Liu: Came to country as an immigrant, mother worked in a sweatshop.(Or so he claims.)
4. Christine Quinn: Had to scrape to get by when father twice went on strike growing up.
3. Bill Thompson: Grandparents were immigrants, parents "worked hard."
2. Anthony Weiner: Mother was a teacher, father went to law school on the G.I. Bill.
1.  Bill de Blasio: Had to "put together everything we could" to buy a house in Brooklyn. 
So, the Number of Candidates Who Have Struggled to Get By Recently: Zero. 
Most Blatant Ass-Kissing: "We probably have the best city work force, the best municipal work force, in the country." — Bill Thompson.
Most Interruptions: John Liu, who talked past his time limit almost as much as he talked within his time limit. 
Candidates Who Would Be Open to Raising Property Taxes: None, except Bill Thompson, who called it a "last resort."
The Last Time the Candidates Took the Subway:
John Liu: Sometime in the last two weeks.
Anthony Weiner: Last week.
Bill Thompson: Yesterday.
Bill de Blasio: Last week.
Christine Quinn: Last two weeks.
Worst Moderator Question: Would you run for another term if crime goes up during your first term?
Second Worst Moderator Question: Explain your position on stop-and-frisk in 15 seconds. 
Best Moments of Anthony Weiner Being Exasperated at the Moderators:
Best Question Moderators Didn't Ask For Some Reason: How long is too long to hold up a train line for two stray cats?
Topic Debated for Greatest Amount of Time Overall: Whether Bill de Blasio's plan to fund universal prekindergarten with a tax increase on people earning $500,000 a year will ever get the necessary approval from Albany; he says it will, but his opponents insist — wait for it — it won't.
Least Convincing Explanation for Flip-Flopping on Term Limits: Bill de Blasio, who claims he only flipped on term limits because there weren't enough hearings, or something. 
Candidates With the Highest 2012 Incomes:
Bill Thompson: $700,000
Anthony Weiner: Enough to pay Bill de Blasio's tax (which would be over $500,000)
John  Liu: $185,000
Christine Quinn: $180,000
Bill de Blasio: $165,000
Least Successful Tactical Omission: Christine Quinn mentioned her endorsements by the Times and the Daily News. John Liu noted that she didn't mention her endorsement by the Post. 
Friendliest: Anthony Weiner, who went out of his way to defend Bill de Blasio on the claim that he took money from slumlords and John Liu on the never-ending investigation into his campaign fund-raising violations, a kindness which Liu did not repay. 
Least Convincing Explanation for Why You Are Being Investigated for Fund-raising Violations: John Liu insisted that his aides, who were found guilty of various charges, were "set up" and that the investigation is merely an attempt "to get me out of this race." The investigation began in 2009. 
Worst Math: Anthony Weiner claimed that property taxes went up 163% during Mayor Bloomberg's term in office. It was much less than that. 
Best Rant: Anthony Weiner, who once again saved this debate from being a complete bore by lashing out at everyone on stage simultaneously about the City Council slush fund scandal.
Number of Minutes Until Bill de Blasio First Uttered the Words "Tale of Two Cities": 56.
Number of Minutes Until Bill de Blasio Uttered the Words "Tale of Two Cities" a Second Time: 70.
Number of Minutes Until Bill de Blasio Uttered the Words "Tale of Two Cities" a Third Time: 87.
Best Canned Line: "Under Bill de Blasio, we might not have a tale of two cities, but a city of two tales." — John Liu, insisting that Bill de Blasio says whatever people want to hear.
Candidates Who Noted the Upcoming Jewish High Holy Days: Anthony Weiner, Bill Thompson, and Bill de Blasio. 
Candidates Who Hope All the Jews Have a Terrible New Year: Christine Quinn, John Liu.
Candidates Who Would Support Anthony Weiner for Mayor Over Republican Joe Lhota, a Situation That Will Never Materialize: All of them, except John Liu, who said he didn't have an answer.
Most Disrespectful to Housekeepers, Or At Least One Housekeeper: Anthony Weiner, who said he cleans the apartment after his housekeeper comes. 
Winners: Bill de Blasio, because nothing that happened tonight will threaten his standing far atop the field, and Anthony Weiner, whose semi-Bulworth performance was entertaining, at the least.