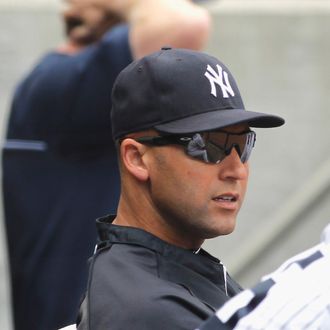 Derek Jeter.
Photo: Andy Marlin/Getty Images
Major League Baseball released its 2014 schedule today, and the Mets will open next season at home against the Nationals on April 2, then finish at home against the Astros on September 28. The Yankees, meanwhile, are set to begin their season in Houston on April 1 and wrap up in Boston, also on September 28. That last game could be significant: If Derek Jeter plays in 2014 and decides that next season will be his last, and if he's healthy come September, and if the Yankees don't qualify for the postseason next year, the Yankees' captain could be playing the final game of his career at Fenway Park.
Obviously there are a bunch of "if"s in there, but this scenario is hardly far-fetched. Jeter's likely to exercise his player option for 2014: He's due $8 million next year, and it's hard to imagine he'd retire this winter and go out without any fanfare. It's also very possible that next year will be his last: His current contract would be up after next season, and he's dealt with injuries this year while struggling on the occasions he was healthy enough to play. As for the team not making the postseason, it's too early to really gauge the Yankees'$2 2014 chances, but they're currently on their way to missing their first postseason since 2008. (Current 2013 playoff odds: 4.7 percent.)
The biggest reason not to book a trip to Boston right now to send off Jeter next September might be his health: For his last game to be September 28 at Fenway, Jeter would need to be healthy and in the lineup in the last week of the season. And considering the way 2013 has gone, that's not guaranteed.