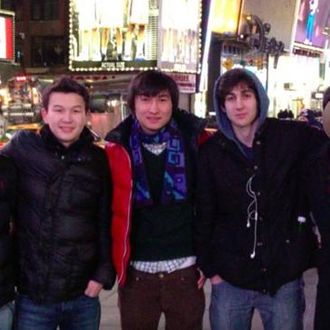 Kadyrbayev, Tazhayakov, and Tsarnaev.
Three of Dzhokhar Tsarnaev's friends from the University of Massachusetts at Dartmouth — Robel Phillipos, Dias Kadyrbayev, and Azamat Tazhayakov — pleaded not guilty on Friday to charges of impeding the authorities' investigation into their college buddy in the days following the Boston Marathon bombings, the Associated Press reports. Kadyrbayev and Tazhayakov have both been charged with obstruction of justice and conspiracy to obstruct justice for allegedly destroying or hiding some of Tsarnaev's dorm-room belongings, including a laptop and a bag of fireworks, after they recognized his photo in news reports. Phillipos, who was with Kadyrbayev and Tazhayakov when they removed the items, has been charged with two counts lying to the police.
Kadyrbayev and Taz­hayakov — both of whom are citizens of Kazakhstan — face either 25 years in prison or deportation. Meanwhile, Phillipos, a Cambridge native, is looking at sixteen years behind bars. He's also the only suspect free on bail under home confinement. According to Taz­hayakov's defense attorney, Nicholas Woolridge, the case against his client is a "witch hunt": "You mention the word terrorism, everybody gets scared. Everybody is ready to burn somebody at the stake." Taz­hayakov's father, Amir Ismagulov, who traveled to the United States for the trial told the Boston Herald, "My son is in a cell with no sunlight. He needs to know that me, his mom and baby sister are here with him to support him." The trial of the young men is expected to last two weeks and involve as many as twenty witnesses.