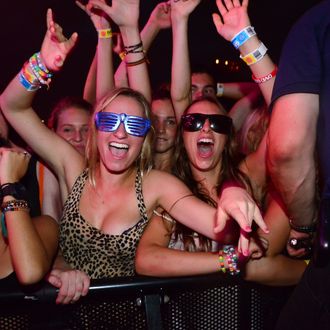 Photo: Brian Killian/WireImage
The three-day Randall's Island electronic dance music festival known as Electric Zoo — not to be confused with May's eerily similar Electric Daisy Carnival — ended abruptly on Sunday when New York City officials canceled the last day of the show, citing the deaths of two concertgoers from apparent MDMA (or "molly") overdoses. Another four people are in intensive care after taking drugs at the festival over the last two days.
A joint statement from the the NYPD and Mayor Bloomberg's office this morning read, "The City recommended cancellation and the event promoters have agreed. The Electric Zoo organizers have worked with City officials to reduce health risks at this event, but in view of these occurrences, the safest course is to cancel the remaining day of the event."
Electric Zoo's website has removed the animated gorilla and bunny inviting you to buy $179 tickets to see Sunday's lineup, which included Diplo and Steve Aoki. It now says, "The founders of Electric Zoo send our deepest condolences to the families of the two people who passed away this weekend. Because there is nothing more important to us than our patrons, we have decided in consultation with the New York City Parks Department that there will be no show today." Watch out for disappointed — and possibly safer — people in neon clothing today.