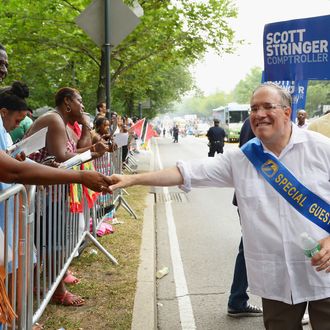 Photo: Michael Loccisano/2013 Getty Images
As Scott Stringer accepted the nomination for New York Comptroller on Tuesday night, he congratulated Eliot Spitzer on a "hard-fought race and an amazing journey." Indeed, Spitzer did give Stringer a tough fight, at one point polling ahead by nineteen points. As Spitzer called the Manhattan borough president to concede, Stringer held a lead of 52 percent to 48 percent, CBS reports.
Spitzer led in the polls for much of the race, but in late august his lead dissipated. Stringer picked up endorsements from the New York Times, the Daily News, and the Post, not to mention Lena Dunham. But as the Times notes, Spitzer attracted much support from the city's African American voters, "who expressed a greater willingness than white voters to overlook his mistakes." It wasn't enough for an election redemption, however.
Stringer now squares off against John Burnett, the sole Republican, in a race that, Reuters reminds us, has not been won by a Republican in more than 60 years.