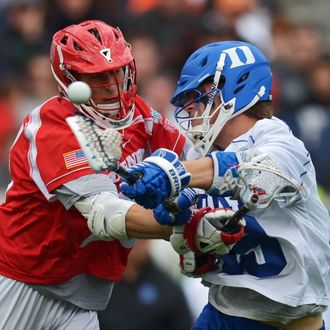 Cody Levine #23 of Cornell University Big Red hits Christian Walsh #19 of the Duke University Blue Devils while he shoots during a semifinal game of the 2013 NCAA Division I Men's Lacrosse Championships at Lincoln Financial Field on May 25, 2013 in Philadelphia, Pennsylvania. Duke won 16-14.
Photo: Drew Hallowell Images/Getty
Cornell University hasn't yet shared the details of what some members of its men's lacrosse team allegedly did to haze a fellow student. But a spokesman said it had to do with "coerced consumption of alcohol by underage freshmen." Regardless, the school decided to suspend the entire Big Red team from play, canceling all fall competitions. It makes one terribly curious to know what they did, and fortunately the school has a website set up for that very thing, hazing.cornell.edu, which USA Today reports will soon be updated with the dirty details.