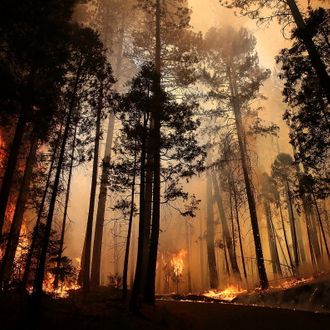 Photo: Justin Sullivan/Getty Images
The U.S. Forest Service does not yet know what caused the 371 square-mile Rim Fire, near Yosemite. But the agency, which is leading the investigation, has ruled out one possibility still making headlines after a local fire chief suggested it last Friday: They're pretty sure the fire wasn't caused by a secret marijuana grow. The pot farm possibility, floated by Todd McNeal, the fire chief in the nearby town of Twain Harte, certainly is a juicy one. It caught the attention of news media nationwide as an answer to the puzzle of what started the state's fourth-largest recorded fire. But Forest Service investigators said on Wednesday it was all but impossible.
"This is very steep, dry, inhospitable ground," Stanislaus National Forest spokesman Jerry Snyder told the San Jose Mercury News. "It's not conducive to growing marijuana in there." The steep, dry hills have no irrigation source and no possible vehicle access to bring in growing equipment or haul out the weed. He called McNeal's comments "erroneous," and added to the San Francisco Chronicle, "We do have problems with marijuana grow sites, but in this area it's very difficult terrain."
So what might have caused the fire, if it wasn't some illicit weed farm? Feds still aren't sure, which is a big reason the pot-grow rumor caught on so quickly. There are a few possibilities, but investigators wouldn't tell The Chronicle which ones they were taking seriously. A lone backpacker or hunter might have improperly extinguished a cigarette or campfire. No lightning strikes had been reported in the area, but a rock slide could conceivably have created a spark. Regardless of what started it, the fire is 80 percent contained, with full containment expected in two weeks, which is good.