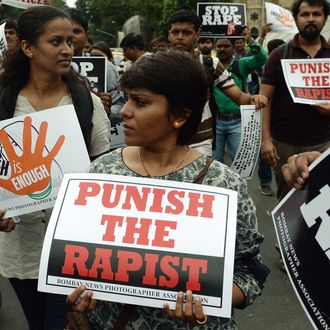 A protest rally in Mumbai on August 23, 2013.
Photo: PUNIT PARANJPE/AFP/Getty Images
Four men were convicted Tuesday of all charges related to the gang rape of a 23-year-old woman on a bus in New Delhi last December, which caused her death two weeks later from internal injuries. The fifth adult defendant killed himself in jail, and the sixth, a minor, was sentenced to three years in a juvenile detention center last month. The case transfixed India and shed light on the nation's sexual assault problem. While the government introduced tougher laws on sexual violence, reports of sexual assaults have shot up, leading to a decrease in tourism. Arguments will start this week on whether the four men, who all pleaded not guilty, will be hanged for murder.