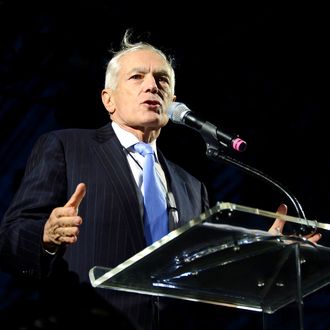 In his business look.
Photo: Jason Kempin/Getty Images
Retired four-star generals can pretty much do whatever they want in this country. For Wesley Clark, that means divorcing his wife of 46 years, Gertrude — they were married in 1967 — and stepping out with 30-year-old former Goldman Sachs banker and start-up founder Shauna Mei. (Clark is 68; Clark's son is 43. Mei has a Tumblr.) First, he went to Burning Man. Then, according to "Page Six," "Clark was spotted in a corner booth at über-exclusive Meatpacking District hot spot Provocateur." On a Tuesday!
The general was reportedly "dressed in a sharp white button-down and khaki pants, " the Post reports. Khaki pants, zero cares. "A few girls were spotted at his table early on, but none of them was Mei," although Dylan McDermott and the singer Maxwell were also present.
Clark left at 1 a.m. On a Wednesday. Poor Gertrude.