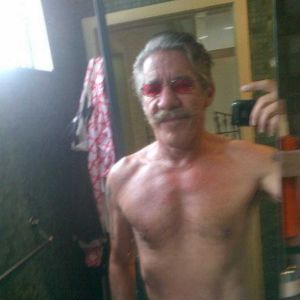 Geraldo Rivera is not letting go of the fact that a Catholic university in Pittsburgh booted him from a panel discussion on the 50th anniversary of the John F. Kennedy assassination because it disapproved of the shirtless selfie he drunkenly posted to Twitter in July. He said on Twitter Friday that the university had removed him from the panel. On Sunday the Pittsburgh Post-Gazette quoted a Duquesne University spokeswoman who said the university's administration was "inappropriate and inconsistent with who we are as a Catholic university." Rivera then tweeted on Monday the university's decision was "pretentious censorship." It feels weird to type this, but Rivera's got a point.
It's not like he was going to show up shirtless to the debate, and as Rivera pointed out in his initial indignant tweet, he was the first in the United States to broadcast the Zapruder film of President Kennedy's assassination, on his show Good Night America. So he's kind of got a significant role in telling the story of the assassination. Plus, it was a shirtless photo, published in a pretty innocent "don't I look good for 70" way, not a sext or a soft-core porno or something suggestive of anything other than a fitness obsession. Geraldo did take the photo down, which suggests he doesn't stand by it, but he said later it was only because Fox, his employer, told him to.
The photo was utterly ridiculous, but as the chair of the university's Cyril H. Wecht Institute of Forensic Science and Law, which was hosting the panel, told the Post-Gazette, it ranks low "on the moral depravity list." The university said it was making a point about how to behave on social media: "We warn our students not to put anything inappropriate on social media because of potential consequences – you could consider this teaching by example." Sheesh, when did religious institutions become so preachy?