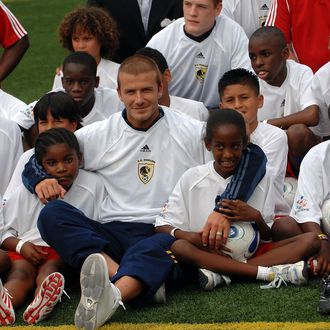 Your basic Republican nightmare.
Photo: Brad Barket/2007 Getty Images
D.C. United, a Major League Soccer team, is going to be helping to publicize Obamacare's new exchange. Wait, you may be asking — how can this be happening? Earlier this summer, the Obama administration, attempting to copy a Massachusetts campaign to use the Red Sox to publicize Romneycare, floated a plan to enlist the National Football League to raise awareness of the new health care exchanges. In response, Republican leaders sent a threatening letter to the NFL warning it to stay out. And, for good measure, it sent the same letter to all the other major leagues: Major League Baseball, National Basketball Association, National Hockey League, Professional Golf Association, and NASCAR.
Except (and I certainly didn't notice this at the time) the list of leagues the Republicans threatened does not include Major League Soccer — reflecting either the Republicans' failure to realize that Major League Soccer exists, or a principled refusal to recognize soccer as a legitimate sport. I didn't think it was possible to find a way to make Republicans hate soccer more than they already do, but it associating it with Obamacare may just do it.