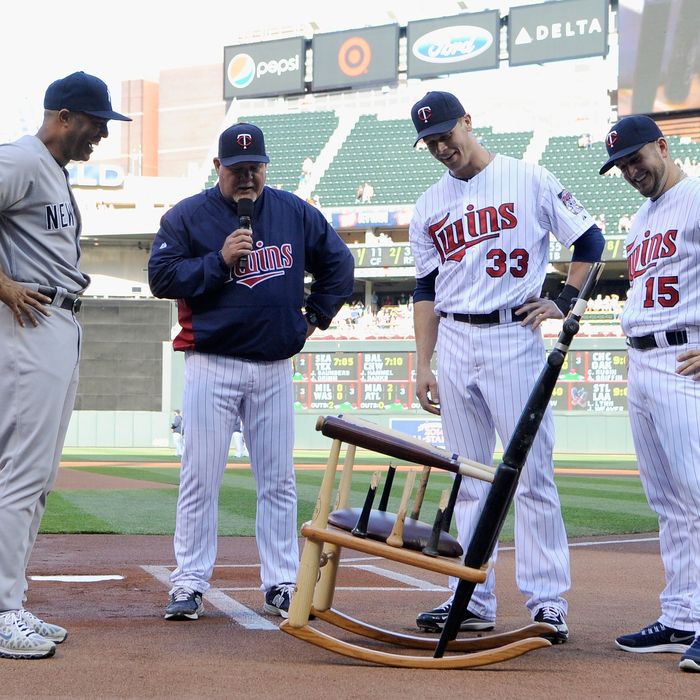 Rivera's broken-bat rocking chair, from the Twins.
Photo: Hannah Foslien/Getty Images
All season long, retiring Yankees pitcher Mariano Rivera has been given gifts by teams the Yankees have visited — and took home presents from his own club, some sponsors, and one legendary metal band as well. Rivera's gifts have ranged from the awesome to the lame (and in the case of Boston's, the borderline offensive). But there are a lot of common elements to the gifts he's received. And so now that Rivera's farewell tour has ended — he received his final gift in Houston yesterday — here's a visual guide to all of Rivera's new stuff.
And here's the full list of gifts:

DETROIT TIGERS (April 7)
• Framed photos of Rivera pitching at Tiger Stadium and Comerica Park, with dirt from both ballparks' pitching mounds
COLORADO ROCKIES (May 8)
• $5,000 donation to the Mariano Rivera Foundation
KANSAS CITY ROYALS (May 12)
• Donation to the church Rivera is renovating
CLEVELAND INDIANS (May 13)
• Gold record of Metallica's "Enter Sandman"
NEW YORK METS (May 28)
• Mounted nozzle from an FDNY truck
• Mounted FDNY call box
SEATTLE MARINERS (June 6)
• $5,000 donation to the Mariano Rivera Foundation
OAKLAND ATHLETICS (June 13)
• Personalized surfboard
• Commemorative bottle of Cabernet Sauvignon Blanc from Groth Vineyards
• $10,042 donation to the Mariano Rivera Foundation
LOS ANGELES ANGELS OF ANAHEIM (June 15)
• Oil painting of Rivera
MINNESOTA TWINS (July 2)
• Rocking chair made with broken bats (inscription reads "Chair of Broken Dreams")
• $10,000 donation to the Mariano Rivera foundation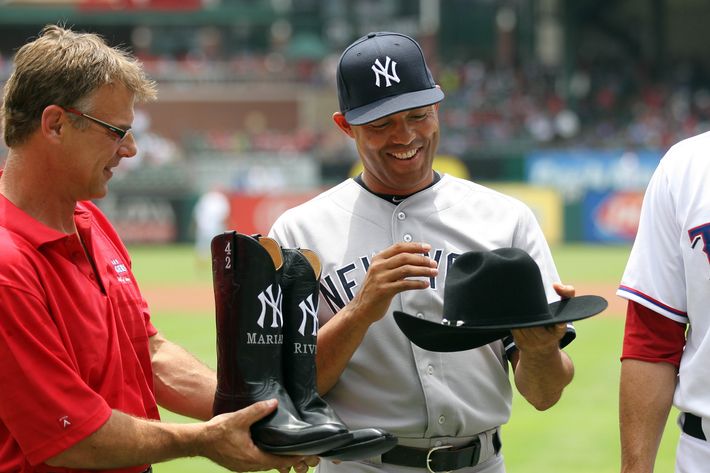 TEXAS RANGERS (July 25)
• Cowboy hat
• Customized cowboy boots
• $5,000 donation to the Mariano Rivera Foundation
LOS ANGELES DODGERS (July 31)
• Custom fishing rod
• $10,000 donation for his planned church
SAN DIEGO PADRES (August 2)
• Custom beach cruiser bicycles for his family
CHICAGO WHITE SOX (August 6)
• Framed scorecard of his favorite Chicago memory: his first appearance after his second MLB promotion
• Framed picture collage of Yankees' visit to Chicago after 9/11
• $4,200 donation to the Jackie Robinson Foundation in his name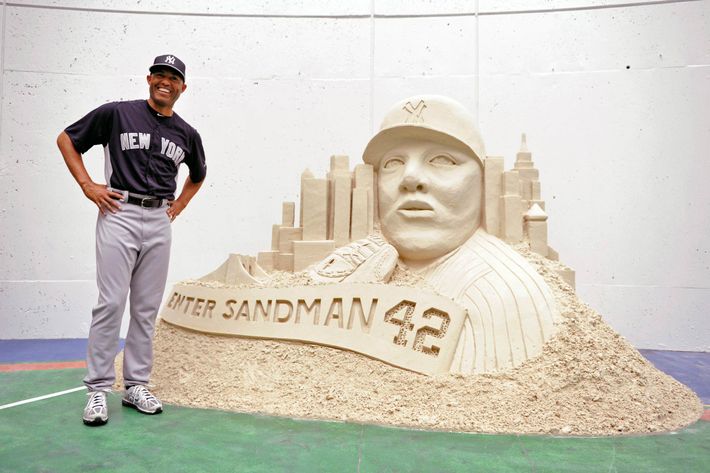 TAMPA BAY RAYS (August 23)
• "Enter Sandman" sand sculpture
• $3,150 donation to the Mariano Rivera Foundation ($50 for each career save against the Rays)
BALTIMORE ORIOLES (September 12)
• Bronze sculpture of a baseball breaking a bat
BOSTON RED SOX (September 15)
• No. 42 from the Fenway Park manual scoreboard
• Painting of Rivera from the 2005 Red Sox opener
• 1934 seat from Fenway Park with No. 42 on it
• Donation to Rivera's charitable causes in the United States and Panama
TORONTO BLUE JAYS (September 19)
• An Inuit sculpture titled Kiviuq's Journey — The Angakok and the Eqalookpuk, depicting a man in a canoe reeling in a fish
• $10,000 donation to the Mariano Rivera Foundation
SAN FRANCISCO GIANTS (September 22)
• A pen-and-ink watercolor of Rivera's appearance at AT&T Park on June 22, 2007
• A customized ESP LTD Kirk Hammett KH-330 guitar, designed by the Giants with Metallica and signed by Willie Mays
• $4,200 donation to the Mariano Rivera Foundation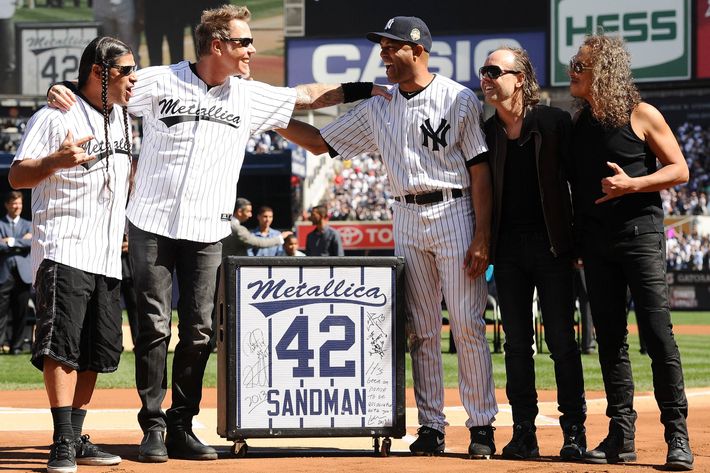 METALLICA (September 22)
• A customized touring guitar speaker cabinet
NEW YORK YANKEES (September 22)
• $100,000 donation to the Mariano Rivera foundation
• Customized rocking chair made of baseball bats
• Framed retired No. 42
• Waterford crystal replica of Rivera's baseball glove
MANFREDI JEWELS (September 26)
• Pershing Chronograph watch manufactured by Parmigiani Fleurier of Switzerland, presented by longtime friends and business associates Joel Kopel and Roberto Chiappelloni
HARD ROCK CAFE (September 26)
• $10,000 donation to the Mariano Rivera Foundation
• A Martin D-18 Authentic 1939 acoustic guitar
• Retired the song "Enter Sandman" from all Hard Rock locations worldwide, except the one at Yankee Stadium
DELTA AIR LINES (September 26)
• A $25,000 credit toward Delta Private Jets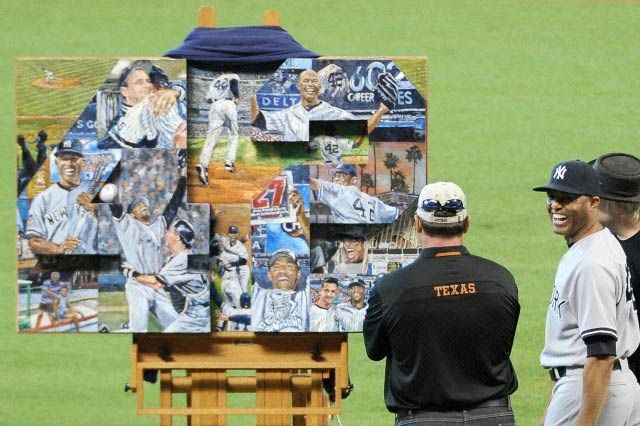 HOUSTON ASTROS (September 29)
• A painting of Rivera career highlights, configured on a No. 42