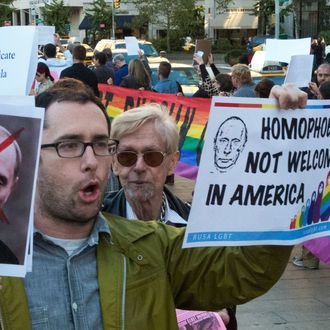 A demonstrator at Lincoln Center.
Photo: James Wagner
The Metropolitan Opera was never in any denial about the likelihood of protests ahead of Monday's opening-night performance of Tchaikovsky's Eugene Onegin, but there's not much a company can do to prevent hecklers who really want to heckle. After picketing outside the performance, some demonstrators protesting Russia's anti-gay laws took their demonstration inside, raising their voices ahead of the cast: "Putin, end your war on Russian gays," one yelled, according to the New York Times. "Anna, your silence is killing Russian gays! Valery, your silence is killing Russian gays," the protesters continued, referring to Anna Netrebko, the soprano, and Valery Gergiev, the artistic director, both visiting from Russia. Security escorted four protesters out of the nosebleed section. "The disruption was met by a flurry of boos and a hearty round of applause," according to Queer Nation NY, the protest's organizer. The Met saw this coming.
"We respect the right of activists to picket our opening night and we realize that we've provided them with a platform to further raise awareness about serious human rights issues abroad," Met general manager Peter Gelb wrote in an op-ed for Bloomberg on Sunday. "We stand against the significant human rights abuses that take place every day in many countries. But as an arts institution, the Met is not the appropriate vehicle for waging nightly battles against the social injustices of the world." Netrebko has issued a statement saying she did not discriminate against anyone, but it did not mention anything about Russia's official policy criminalizing "propaganda on nontraditional sexual relationships."
Protesters said it absolutely was the Met's place, as Russian President Vladimir Putin was using cultural institutions and the Olympics to distract from the anti-gay policies. Given the high-profile forum the Met provides, and the ease of picking up a cheap ticket with the intent to yell, Monday's disruption likely won't be the last one at the Met this season.