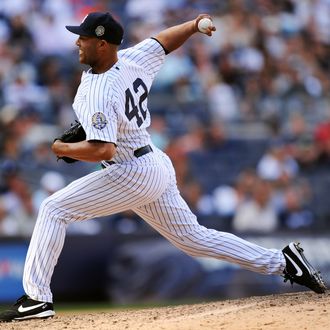 Mariano Rivera.
Photo: Maddie Meyer/Getty Images
Mariano Rivera has gotten all sorts of gifts on his season-long farewell tour: a surfboard, a fishing pole, two different rocking chairs, and so on. He didn't ask for those things, but he has asked for at least one thing in his career: He wants to play center field at some point. And so with Rivera retiring at the end of the season, if he's ever going to get the chance, it'll have to be within the next week.
Here's Rivera talking to the MLB Network back in 2011:
"I would love to play center field at least for one inning or one out. I told my manager. I don't think it would happen, but I hope so."
And that September, Joe Girardi said it was something he'd actually consider:
"I'll think about that when he tells me he's near the end," Girardi said. "It's something I would definitely think about. That'll get me in trouble, won't it?"
At the time, Rivera was signed through 2012 and hadn't yet announced when he was going to retire. So Girardi — whose Yankee teams had been playoff bound every year since 2009 — might have been hesitant to use him as anything other than his closer out of fear that Rivera could get hurt. It's understandable — and Girardi was probably even more spooked by the idea after Rivera injured himself shagging flies during batting practice in Kansas City last year.
But now it's September 2013, Rivera has six games left as a major-leaguer, and the Yankees will likely be mathematically eliminated from playoff contention any day now. (Their tragic number is down to three.) And once they're officially out of postseason, Girardi can finally give Rivera the opportunity to do something he's long wanted to do. We have no doubt he'd enjoy this more than the surfboard. Make it happen, Girardi.