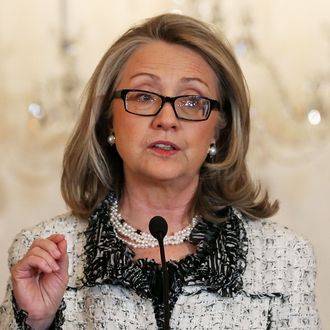 Secretary of State Hillary Clinton speaks about women's issues during an event at the State Department, January 31, 2013 in Washington DC. Secretary Clinton is an Ambassador at large for Global Women's Issues and helped the group launch four new initiatives valued at up to 86.5 million dollars.
Photo: Mark Wilson/Getty Images
Releasing a statement last week supporting the president's effort to "enlist the Congress in pursuing a strong and targeted response to the Assad regime's horrific use of chemical weapons" might seem like sufficient commentary from the former secretary of State, but Hillary Clinton has more to say on Syria. A Clinton source tells CNN that in addition to discussing the issue during a speech Tuesday night at the National Constitution Center in Philadelphia, she'll comment on the potential military strike when she's at the White House Monday afternoon for a forum on wildlife trafficking. Even Ari Fleischer has to be surprised that his Twitter dare to Hillary worked.