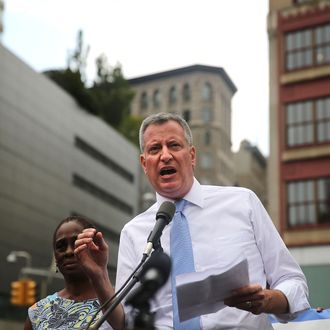 Photo: Spencer Platt/Getty Images
Democratic mayoral front-runner Bill de Blasio has styled himself as a scourge of slumlords and a critic of the Bloomberg administration's policies to shelter the homeless, assailing the "failure of the strategy" in his first policy statement as public advocate. But at a time when he was considered a long-shot candidate, De Blasio found financial support from an unlikely source: one of his most frequent targets, a former Bloomberg administration official who now runs a network of homeless shelters leased from some of the city's most notorious landlords. 
During 2011 and 2012, a small group of property owners and contractors who do business with the city's Department of Homeless Services donated more than $35,000 to De Blasio's campaign, according to records on file with the city and state campaign-finance boards. (See the full list at the bottom.) Most of the money came from landlords of single-room-occupancy hotels and slum apartment buildings that operate as shelters under the aegis of Housing Solutions USA, run by Robert Hess, formerly Mayor Bloomberg's commissioner of homeless services. Though Hess's organization is a nonprofit, the landlords he works with have reaped millions in public funds by turning their rundown properties into shelters, collecting sky-high rents from the city.
Hess has contributed just $400 to De Blasio, the maximum that campaign-finance law allows for contractors doing business with the city, but in May 2012 he held an intimate fund-raiser for the candidate at his Long Island City apartment. Among the handful of attendees were two hotel landlords who gave generously to De Blasio's campaign, including Alan Lapes, one of the largest and most controversial players in the for-profit shelter industry.
Hess declined to comment on the event when reached by phone yesterday. "That's a personal matter," he said. But other attendees described an informal living-room dialogue about De Blasio's campaign and his plans to care for the city's homeless population, which has risen to record levels under Bloomberg. Providing shelter beds can be lucrative for landlords — the city typically pays rents of more than $3,000 a month — and one attendee recalls that, prior to the event, Lapes was frank about his reasons for giving. "This is the guy who is going to win," he recalls Lapes saying. "This is the guy to bet on."
In February, after the Times reported that Lapes had exploited an obscure loophole in the city's campaign-finance rules to give De Blasio twice the legal limit, the candidate returned nearly $15,000 in donations from the landlord and his wife. "I've just made the decision to return the money, and that's all I have to say," he told the Post. But the broader pattern of giving — which ramped up as Housing Solutions USA, formed only in 2011, was pressing forward with controversial multi-million-dollar city shelter contracts in Manhattan, Brooklyn, and the Bronx — has not previously been reported.
De Blasio campaign spokesman Dan Levitan said the contributions had no effect on the candidate's long-standing position as a vocal opponent of "scatter site" shelters — uncontracted facilities, mainly operated out of residential builidngs by private landlords, that offer a minimal level of service to city shelter clients. Hess's organization operates two of the largest such "clusters" of shelters, in the Bronx. "From his time as Chair of the City Council's General Welfare Committee to his work as Public Advocate, Bill de Blasio has been one of the most vocal critics of the use of 'scatter site' housing," Levitan said in a statement. "Mayor Bloomberg's increasingly wasteful use of such shelters is part of a disastrous and broken homelessness policy that has seen New York City's shelter population soar to a record 50,000 people. As Mayor, Bill will phase out the use of scatter site shelters and return to the proven strategy of moving homeless families from the shelter system to safe, affordable housing." De Blasio has also proposed a voucher system that would allow homeless families to relocate into private housing at a lower cost to the city. 
It is far from unusual for those who do business with the city to try to influence top local politicians. But the public advocate's link to Housing Solutions USA is surprising to those immersed in issues of housing policy, because De Blasio and Hess had a publicly adversarial relationship when Hess was commissioner of the city's Department of Homeless Services. Lapes, who leases out the majority of the properties where Hess operates, has also been a past target for De Blasio. After a 2010 audit by comptroller John Liu found undocumented payments and "hazardous and unsanitary conditions" at one of Lapes's hotels, De Blasio issued a statement attacking the city's policy of "spending taxpayer dollars to shelter New Yorkers in unsafe, over-priced hotel rooms that do not effectively reduce homelessness."
Of course, Liu and De Blasio are now running against one another, and in his uphill battle for the mayoralty, the public advocate has shown little compunction about accepting assistance from former subjects of scrutiny. Earlier this week, the Daily News reported that De Blasio had accepted $54,000 in donations from individuals on his office's "Worst Landlords List," an issue that opponent Christine Quinn pounced on in the final mayoral debate. De Blasio said the list had "shamed" landlords, compelling "a lot of them to mend their ways," and claimed that no one was removed from the list because of donations.
"No one's fought harder to stand up to slumlords than Bill has," Anthony Weiner interjected, in an unlikely defense. "Accusing him of defending slumlords is ridiculous."
Housing USA facilities, however, have been the subject of frequent complaints from neighborhood groups, homeless advocates, and city oversight agencies. De Blasio has long been aware of the shelters' checkered reputation. Last fall, at a public forum he conducted on the Upper West Side, a community activist delivered an encyclopedic list of complaints about a controversial Housing Solutions USA facility on West 95th Street, mentioning Hess and Lapes by name. (Liu has since launched an audit of the organization and has moved to block two of its shelter contracts, sparking a lawsuit by Bloomberg.) Another of the organization's proposed facilities, in Carroll Gardens, is located in De Blasio's former City Council district. Yet another of its shelter properties, on Tinton Avenue in the Bronx, currently sits on De Blasio's own worst-landlord list. (De Blasio has not taken a position on either the West 95th Street or Carroll Gardens projects, though he did co-sign a letter to the city's Department of Buildings about the latter one, requesting an investigation of possible code violations.)
Some of the most vehement complaints about the organization's shelters, however, come from residents themselves. "They're getting all this money, $3,000 a month, and people are living in squalor," says Terrenova Washington, who was housed for more than a year in a shelter called the Parkview Hotel on West 110th Street. Over the course of her stay, she wrote a series of e-mails and handwritten letters to public officials, including De Blasio, complaining of open drug use, violence, rodents, and "filth, mold and disrepair." Although the public advocate's office interacted with Washington over the course of several months, and took her complaints to other agencies, she says she feels her case was never taken seriously.*
Documents filed with the city's housing department list Alan Lapes as the managing agent of the Parkview. But, as is the case with most of the properties he operates, he merely leases the property from its actual owner, a holding company controlled by Jay and Stuart Podolsky. In the eighties, the Podolsky brothers pleaded guilty to felony charges in relation to a scheme to roust rent-controlled tenants from one of their properties. But since then, operating through shell companies and surrogates like Lapes, they have amassed a huge portfolio of seedy Manhattan SROs and outer-borough tenements, many of which now function as homeless shelters. One of the Podolskys' company lawyers provided the seed funding to start up Housing Solutions USA, according to tax records, and family associates dominate its board. Former employees say the Podolskys take an active behind-the-scenes role in running the shelters, and they, too, are backing De Blasio.
"They're trying to advance their agenda through someone who is a public official in line to be the next mayor of the city," said Will Felcon, a former Podolsky family employee who says he attended Hess's fund-raiser. "De Blasio was their guy."
Until last fall, Felcon was the vice-president of client services and operations for Blabbermouth Social, a digital media company that was majority-owned by Jay and Stuart Podolsky's twentysomething sons. The firm operated out of the same offices as the family hotel company, Amsterdam Hospitality, and designed the website for Housing Solutions USA. Multiple Blabbermouth employees told me they attended the fund-raiser on orders from the Podolskys to aggressively pitch a working relationship with the city government and De Blasio's campaign. "It wasn't a shaking hands, kissing-the-baby kind of thing," Felcon said. "It was specifically talking about our business."
Not long after the fund-raiser, however, Blabbermouth Social began to crumble in a dispute between the younger Podolskys and their co-founder. The company employees were laid off without an offer of severance or COBRA benefits, and the Podolskys filed suit against their partner, claiming they were owed $3 million for their piece of the company. (A judge later threw out the suit.) Ultimately, the company's demise put an end to any business discussions with De Blasio. But invoices filed in court in connection with the case reveal that, shortly before the collapse, a Blabbermouth executive had lunch at Le Pain Quotidien with a representative of the New York public advocate's office.
A source close to Blabbermouth said that De Blasio himself was present at the meeting, which was set up soon after the fund-raiser. Also in attendance, according to the invoice, was Jeff Merritt, a senior adviser to the public advocate who heads an affiliated nonprofit called the Coalition for Accountability in Political Spending.
Major Contributors
Alan and Cynthia Lapes: $14,850, various dates
Lapes manages more than a dozen hotels that operate as homeless shelters under the aegis of Housing Solutions USA.
Daniel Murphy: $4,950, 7/10/2012
A founding board member of Housing Solutions USA, Murphy has also acted as a security consultant to Lapes's facilities.
Kalman Tabak: $4,950, 12/7/2011
Owns six Bronx apartment buildings that function as shelters under Housing Solutions USA.
Irving Langer: $1,800, 1/11/2012
An owner of a shelter building on Fulton Avenue that collects $3.7 million in annual rent via an arrangement with Housing Solutions.
Robert and Patricia Hess: $575, various dates
Chief executive of Housing Solutions USA.
Nathan Baum: $4,950, 1/9/2012
Listed himself as the manager of a homeless-shelter property on a campaign-finance report and named Hess as the intermediary for his contribution.
Stephen Breskin: $1,925, various dates
Principal of Atkins & Breskin, a real-estate firm that owns a Housing Solutions shelter called the Ping Hotel.
Benjamin and Linda Atkins: $2,000, 1/11/2011
Breskin's business partner.

Jenna Kagel contributed additional reporting to this story.

*A previous version of this stated, "She claims she was never taken seriously by the public advocate's office."