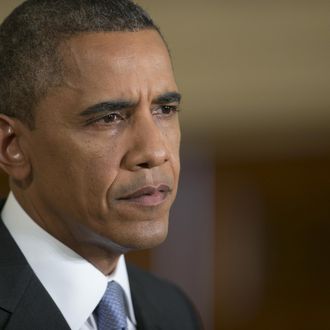 Photo: Andrew Harrer/Bloomberg/Getty Images
Asking Congress for approval to attack Syria is not looking good for President Obama. While the Senate seems prepared to back the White House in next week's vote, the House of Representatives remains a long shot. "Peace may well have a chance," a House GOP aide told the Huffington Post, which puts the likely votes at 201 representatives leaning "no," 48 leaning "yes," and 184 undecided, with 217 votes needed for passage. 
And the opposition is bipartisan. "Members on both sides [are] undecided, with most (not all) I've talked to feeling extremely uneasy and uncomfortable with this resolution," one Democrat said. And as HuffPo points out, "The paradox for the Obama administration, though, is that as the scope of the resolution narrows, the rationale for doing anything at all diminishes."
"The active public is against this," Representative Brad Sherman, a likely "yes," told Wonkblog. "I don't know a member of Congress whose e-mails and phone calls are in favor of this." Thirty-four lawmakers who supported invading Iraq are against action in Syria, according to estimates.
This afternoon, New York Republican Representative Michael Grimm pulled his support, explaining in a statement that he is "no longer convinced that a U.S. strike on Syria will yield a benefit to the United States that will not be greatly outweighed by the extreme cost of war."
"Unfortunately, the time to act was then and the moment to show our strength has passed," said Grimm. "As debate has dragged on in Congress, the president has weakened his position as our leader and deteriorated our credibility on the world stage."
Obama knows it's an uphill climb: He's even canceled a trip to California next week. "He will remain in Washington to work on the Syrian resolution before Congress," a White House aide told the Hill. (By their count, 31 lawmakers are probable "yes" votes in the House, including nine Republicans, and 97 are likely "no"s.) The president is also considering a speech from the White House to once again lay out his case for the American people. An address aimed at shifting public opinion, a White House spokesperson said, is "still under consideration."
Update, 5:45 p.m.: It's not final, but it is getting worse.