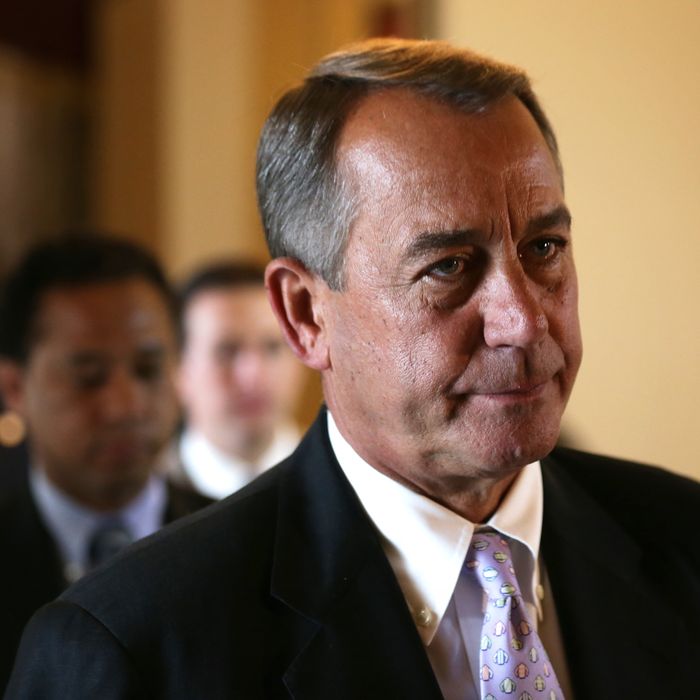 Photo: Alex Wong/2013 Getty Images
A government shutdown at 12:01 a.m. on Tuesday now looks extremely likely, thanks to the House's most far-right Republicans. This afternoon, the GOP announced that its members would vote to amend the spending bill the Senate passed on Monday. While the bill would keep the federal government open, it does not destroy Obamacare, and is therefore not acceptable to the people who have wholly committed themselves to the impossible goal of getting the President to abolish his program.
"The American people don't want a government shutdown, and they don't want Obamacare," said a statement signed by John Boehner and other House Republican leaders. So, they — or, rather, the Ted Cruz-led extremists who backed them into this corner— are demanding a one-year delay of the health-care law, along with the repeal of the medical device tax designed to help fund it. (They also implicitly acknowledged the all-but-certain consequences of their actions by proposing a bill that would ensure that members of the military were paid in the event of a shutdown.) This new version of the bill will be sent back to the Senate, where it won't be approved. It will then return to the House, leaving the government with little time to come up with a viable solution to the funding fight before the Tuesday deadline. "We really didn't talk about exactly what the plan would be [if the bill comes back to us]," explained Republican Representative Phil Gingrey.
In a statement calling the Republicans' move "pointless," Senate Majority Leader Harry Reid confirmed that the Obamacare measures would be rejected. "After weeks of futile political games from Republicans, we are still at square one: Republicans must decide whether to pass the Senate's clean [continuing resolution], or force a Republican government shutdown," he said. "We continue to be willing to debate these issues in a calm and rational atmosphere. But the American people will not be extorted by Tea Party anarchists." White House Press Secretary Jay Carney echoed Reid's language in his own statement: "Any member of the Republican Party who votes for this bill is voting for a shutdown. It's time for the House to listen to the American people and act, as the Senate has, in a reasonable way to pass a bill that keeps the government running and move on."
While some Republican House members are willing to admit that the Obamacare amendments will lead to a shutdown, others maintain a fun-house perspective (in public, anyway.) When asked what would happen when the Senate rejected the House's plan, Republican Representative Darrell Issa snapped, "How dare you presume a failure? We continue to believe there's an opportunity for sensible compromise and I will not accept from anybody the assumption of failure." People who can live without Issa's acceptance should take a look at this and plan their week accordingly.