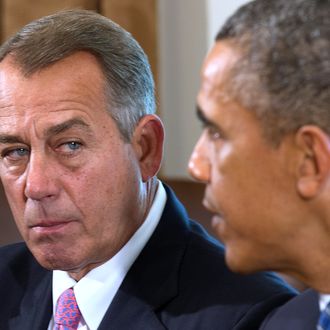 Boehner and Obama on Tuesday.
Photo: JIM WATSON/AFP/Getty Images
John Kerry learned on Tuesday that it's not smart to start "thinking out loud" about the possibility of putting troops on the ground when you're testifying before the Senate Foreign Relations Committee, and a few hours later senators moved to ensure that his musings won't come to fruition. Members of the committee agreed to reword the resolution authorizing a U.S. strike on Syria, allowing 60 days of action against Assad's regime, followed by another 30 if the president notifies Congress – though, Obama's options would be limited. The new resolution bars the deployment of troops for the "purpose of combat operations."
The Obama administration had said it was open to revising the resolution, and the AP reports the compromise between Democratic and Republican senators is likely to be approved by the committee in the coming days. Senate Democrats are increasingly confident that they can get the bill passed in their chamber. While Sen. Rand Paul, one of the most outspoken critics of the proposal, hinted that Republicans might attempt a filibuster, at the hearing he told Kerry, "You're probably going to win" congressional support. 
In another positive development for Obama, House leaders from both parties announced they'll back an attack on Syria. "This is something that the United States as a country needs to do," said John Boehner following a meeting in the Oval Office. "I'm going to support the president's call for action. I believe my colleagues should support this call for action."
While Boehner's stance could help Obama's efforts to sway the House, where the authorization bill's passage is far from certain, the speaker elaborated that he won't be personally rallying any House Republicans to the cause. Boehner's spokesman said he "expects the White House to provide answers to members' questions and take the lead on any whipping effort."