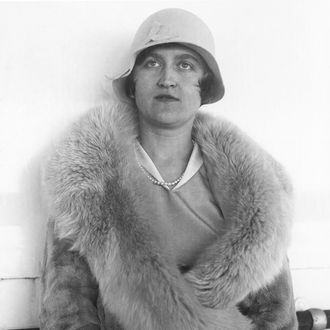 In case you somehow forgot, Huguette Clark was a deeply reclusive copper heiress who spent the last twenty years of her life living at Beth Israel Medical Center because she preferred the hospital to her 42-room Fifth Avenue apartment or her 21,666-square-foot home in Santa Barbara. She collected jewelry, stuff from Japan, and, most notably, roughly 1,000 dolls. When she died at the age of 104 in 2011, she left most of her $300 million estate to an arts foundation to be created in her name, with the rest going to her doctor, accountant, lawyer, nurse, goddaughter, Beth Israel, and not to any of her relatives. Unsurprisingly, Clark's family — with whom she had little or no contact and which now only consists of descendants of her father and his first wife — was not happy with that arrangement, especially because another, slightly older version of her will awarded the vast majority of her money to them. They filed a lawsuit, but the New York Times reports that lawyers have reached a "tentative settlement" that would keep the case from going to court.
Under the terms of the proposed deal, the twenty relatives who argued that Clark's last will was "the product of undue influence and fraud" would receive $34.5 million.
Mrs. Clark's lawyer, Wallace Bock, and accountant, Irving Kamsler, would get nothing; her nurse, Hadassah Peri, would get nothing and would have to give back $5 million, according to lawyers involved in the case. Mr. Bock, Mr. Kamsler and Mrs. Peri would be able to keep gifts that Mrs. Clark had left them while she was alive — in Mrs. Peri's case, more than $30 million worth.

Beth Israel Medical Center in Manhattan, the hospital where Mrs. Clark lived for the last 20 years of her life, would get the $1 million she gave it in her second will, the parties said, and her doctor, Henry Singman, would get $100,000. But the hospital and Dr. Singman could be subject to further court proceedings challenging gifts they had received outside the will, one of the parties said.
The Corcoran Gallery of Art would also receive $10 million. Meanwhile, Clark's California mansion, Bellosguardo, would be turned into the foundation she envisioned. Her $2 million doll family, which she left to Peri in second will, would live there instead.