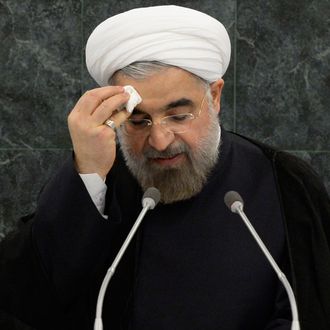 Iranian President Hassan Rouhani addresses the U.N. General Assembly on September 24, 2013 in New York City. Over 120 prime ministers, presidents and monarchs are gathering this week for the annual meeting at the temporary General Assembly Hall at the U.N. headquarters while the General Assembly Building is closed for renovations.
Photo: Brendan McDermid-Pool/Getty Images
The president of Iran, Hassan Rouhani, told New Yorker editor David Remnick this morning "that he condemned the 'massacre' of Jews that took place during World War II but would leave it to historians to decide how many Jews had been killed." Previously, Rouhani had dodged a question about the existence of the Holocaust because he is "not a historian," so in a sad way this is actually an improvement.