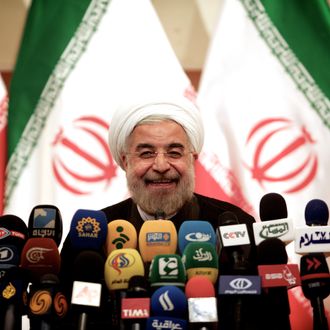 Rouhani speaks at a press conference in June 2013.
Photo: BEHROUZ MEHRI/AFP/Getty Images
Jews got two highly unusual Rosh Hashanah greetings this week when Iran's new president, Hassan Rouhani, and new foreign minister, Mohammad Javad Zarif, tweeted out their wishes for a happy new year. Zarif went a step further in an exchange with Nancy Pelosi's daughter, claiming Iran never denied the Holocaust, and "The man who was perceived to be denying it is now gone." The announcement on Thursday that Zarif, who was educated in the U.S. and served as Iran's ambassador to the U.N., will lead negotiations on Iran's nuclear program added to the speculation that Iran might be adopting a less confrontational tone – but that was quickly undercut by a report that Iran is plotting to attack U.S. interests in Iraq if there's a strike on Syria. 
U.S. officials tell The Wall Street Journal that in the past few days they intercepted a message from Qasem Soleimani, the head of  Revolutionary Guards' Qods Force, in which he ordered Iranian-backed militia groups in Iraq to attack the U.S. embassy and other American targets in Baghdad if Syria is attacked. There have been similar threats from other Syrian allies, and in addition to the warships targeting Syria, the U.S. has moved military resources to the region to prepare for possible reprisals.
Even before the new threat was reported, U.S. officials didn't seem impressed by Iran's good-natured tweets – particularly since the U.N. nuclear watchdog reported last week that Iran plans to test 1,000 advanced uranium-enrichment centrifuges and continues to violate sanctions through activities like arms smuggling. On Thursday, Samantha Power, the U.S. ambassador to the U.N., told the Security Council on Iran sanctions that the U.S. had hoped the inauguration of President Rouhani would create an opportunity to resolve some of those issues. "Unfortunately, we have not yet seen any clear signs that Iran is committed to addressing the most pressing concerns about its nuclear program," Power said. "To the contrary, recent developments trouble us."