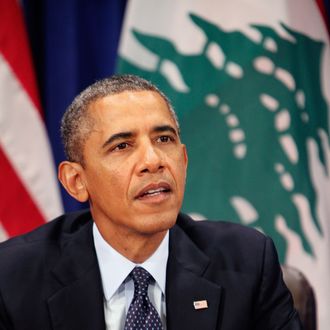 Obama at the U.N.
Photo: Allan Tannenbaum-Pool/Getty Images
President Obama had hoped to send a message to Iran and the world today by at least sharing a handshake and informal chat with Iran's relatively moderate new president, Hassan Rouhani, while both men were at the United Nations. Had it happened, it would have marked the first meeting between an American president and an Iranian president since the Iranian Revolution in 1979. But Iran decided it would have been too much, too soon.
"The White House had offered to have 'an encounter' on the sidelines of UNGA [United Nations General Assembly] with Iranian President Rouhani," according to a pool report, "but the Iranians informed the US today that it is 'too complicated for Iranians to do at this point.'" Iran is just getting out of a long-term relationship with a real psycho — it just needs some time to decompress.