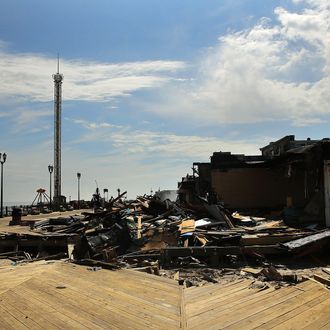 A shot of the damage in Seaside Heights.
Photo: Spencer Platt/2013 Getty Images
Following a thorough investigation into rumors that the six-alarm fire that tore through the boardwalk in New Jersey's Seaside Park and Seaside Heights last week was "suspicious," the blaze has been declared an accident. Officials said on Tuesday that they believe it started when electrical wires under the boardwalk touched. The fire was probably a lingering consequence of Hurricane Sandy, as the wiring was compromised by sand and salt water during the storm.
The wires were never inspected after Sandy, which Ocean County prosecutor Joseph Coronato noted wasn't smart. However, he refused to assign blame. "Quite honestly, it's inaccessible," he explained. "You'd have to tear down the entire building to get to the wire so I think that you're going to have to put some reason to the conclusion here." Plus, the wiring had been in place since the seventies and Coronato said it it "could have failed on its own."
Gov. Chris Christie has promised $15 million for the 50 plus businesses damaged by the fire, and officials said the incident should prompt all coastal property owners to examine their wiring for damage caused by Sandy. "I'm sure on every boardwalk everywhere [at the Jersey shore], there may be compromised wiring," Coronato said. "We don't want to start a panic mode. We just want to be reasonable. If you're a property owner and you think your electrical work came in contact with water and sand, we strongly recommend you have it inspected."