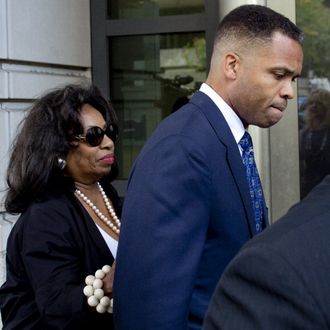 Photo: SAUL LOEB/AFP/Getty Images
When Jesse Jackson Jr. pleaded guilty to fraud in February it was for squandering $750,000 of his campaign's cash on ridiculous things including elk heads, Build-A-Bear, fur coats, and Michael Jackson paraphernalia. Now that it's time to pay that bill, the feds are putting some of those toys up for auction Tuesday. Sadly, the elk heads are not among the Gaston and Sheehan lots. But some of the Michael Jackson gear is, as well as some mink and a few Bruce Lee collectibles.
Amid the highlights:
A ladies mink jacket with 40 percent silver fox sleeves and horizontal strips of mink.
A ladies red cashmere cape with dyed black mink trim.
A framed still from Fist of Fury, autographed by Bruce Lee.
A framed 25th anniversary "Thriller" poster, signed by Michael Jackson.
A still from The Way of the Dragon, autographed with the note "Best wishes Bruce Lee."
Most of the prices start in the low hundreds, but the auction runs until Sept. 26, so they'll have plenty of time to climb skyward.