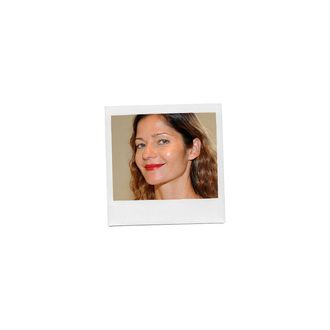 Photo: Brad Barket/Getty Images for Moet & Chandon
Name: Jill Hennessy
Age: 44
Neighborhood: Greenwich Village
Occupation: Actress, singer-songwriter, mom. [Editor's note: We caught up with Jill in the Moët & Chandon suite at the U.S. Open, and she was gracious enough to answer these questions on the spot.]
Who's your favorite New Yorker, living or dead, real or fictional?
Seeing as we're at a tennis match: Billie Jean King. I'd call her a New Yorker even though I know she wasn't necessarily born here. Does it have to be one person? Other than that I go Pat Kiernan, who I wake up with, and Jon Stewart and Stephen Colbert, who I go to bed with. Then there's Jerry Orbach from Law & Order, who I just dearly loved and exemplifies the gentleman New Yorker to me. And Woody Allen, who I think portrays the city beautifully. Also, I have to throw in Alicia Keys, because I'm totally in love with her, and Marcus Samuelsson, because he's great. Oh, and Dorothy Michaels, Dustin Hoffman's character from Tootsie. Because I feel like the more I watch that movie the more I feel like I am Dorothy Michaels.
What's the best meal you've eaten in New York?
I live for food. I try to gear my day around a great meal I'm hoping to have. But for the best meal, I immediately go to one I had at Babbo at the bar. I think the chef was Frank Langella. And the special was agnolotti stuffed with beets and smoked ricotta — that blew my mind. I literally can't forget the flavor. I'm tasting it now.
In one sentence, what do you actually do all day in your job?
I would say that I spend about 5 to 10 percent of my time writing music, playing music, either looking for acting work, or actually doing acting work, and the other 90 percent of the time eating leftover peanut butter and jelly sandwiches, cooking, and hanging out and exploring New York with my kids.
What was your first job in New York?
My first job was a Broadway show called The Buddy Holly Story, about 22 years ago. I played Buddy's wife, María Elena. That's the show that actually got me into this country from Canada. And I never left.
What's the last thing you saw on Broadway?
The last thing I saw was Once. But, after two years of trying to go, I managed to secure some half-price tickets to Book of Mormon for this evening. I went to StubHub.
Do you give money to panhandlers?
I do, especially when I get to know them. Also, I always have to give money to street musicians. As a former busker myself, it means a lot to me. And there are so many brilliantly talented musicians who play on the street. In Washington Square Park we have the gentleman who plays piano, who's gotten quite a bit of attention, but we also have a guy named Morgan who plays the banjo and also plays the carrying case that he transports his equipment in. He uses it as a percussive instrument, and he is phenomenal.
What's your drink?
Between Champagne — Moët, actually, so being in this lounge is like a paradise for me — and a really crisp, dry white wine. Like a Grüner Veltliner or something that is bitingly dry. Nothing overly oaky (no offense to Chardonnays).
How often do you prepare your own meals?
About five nights a week. It's a luxury to be able to, with our busy lives and living in New York, where most of our kitchens are closets. I'm known as the salad queen. But I made a pasta last night with prosciutto and a little bit of half-and-half cream, onion, and white truffle oil (that put it over the edge). And tons of Pecorino cheese, which I find is an underused grated cheese in pastas.
What's your favorite medication?
Champagne and wine. I look forward to a glass of wine a little too much. Or coffee — is that considered medication?
What's hanging above your sofa?
Two framed photographs: One is of my older son, Marco, that was taken when he was 5 years old. He's in his pajamas outside in my mother-in-law's driveway. He's holding a box of LEGOs. It just captures who he was at the time, in tight pajamas with little mosquitos and bugs all over them and a very serious expression on his face. The other photo is of a desolate baseball field in the middle of winter, where everything's covered in snow. There's such a cold, isolated feeling about it that reminds me a little bit of my childhood [laughs] growing up in the colder climes of Canada. It captures that feeling of what I used to feel as a kid, when winter just got a little too long and you were desperate for spring. I don't know why I put sort of a depressing photo up, but I kind of love it.
How much is too much to spend on a haircut?
Anything over $150.
When's bedtime?
After Jon Stewart or Stephen Colbert. But if I'm really exhausted it's right after I put the kids to bed. I'll fall asleep actually reading a story to them.
Which do you prefer, the old Times Square or the new Times Square?
New Times Square, even though the old one had its charms. It's definitely a lot safer. And it smells a lot better.
What do you think of Donald Trump?
I have to say he's always entertaining. And a brilliant self-promoter. I should take a few pointers from him.
What do you hate most about living in New York?
It's so funny because I'm so used to encountering people who say, "Oh, you live in New York? Isn't it dirty, isn't it busy? Is it crazy?" And I feel like I spent my whole life since moving here explaining to people how brilliant New York is and how most of these misconceptions about New York are so wrong. But I do hate that I can't have a garden in the apartment I'm in now.
Who is your mortal enemy?
This is tough. Hayfever?
When's the last time you drove a car?
Two weeks ago at the Jersey shore, and that was the first time in a year. I drove past a place that I always like to think Bruce Springsteen lives in. It's a fantasy I have — that I'll see him one day emerging from some beautiful home on the shore.
How has the Wall Street crash affected you?
The closest I've come to being affected was having friends who work on Wall Street lose their jobs. Not sure that affected me personally, but I feel horrible for my friends and their families.
Times, Post, or Daily News?
Definitely the Times. The only things we subscribe to are the Times and New York Magazine. I'm not even saying that to blow smoke.
Where do you go to be alone?
Speaking of Jersey — Sandy Hook National Park. To clear my head in the city: Moksha Yoga. Also Jack's Coffee on 10th Street. It's a great place to meditate.
What makes someone a New Yorker?
I think if one just has the desire and the passion to be here, that makes you a New Yorker. Anybody who is here probably worked really darn hard to get here.