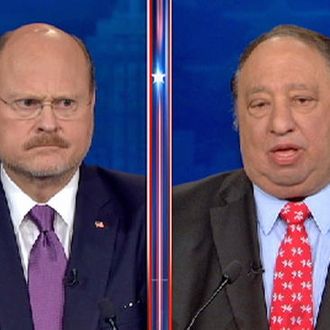 Republican mayoral candidates Joe Lhota and John Catsimatidis participated in their final debate on Sunday morning on NBC 4. As in their last face-off, both candidates differed from their Democratic counterparts in their almost unequivocal support of stop-and-frisk and other questionable strategies employed by the NYPD, including widespread spying on the Muslim community. "It is very, very important that we continue everything that Ray has started," said Lhota, according to Capital New York's account of the debate. Both men said they hoped Kelly would stay on as police commissioner.
Catsimatidis also took the opportunity to add to his previous answer to a question about what he'd tell his own son if he were stopped and frisked. In the last debate, he said he'd want to know if his child had attracted the attention of the police by being "dressed funny" or "walking funny." Today, he elaborated on what exactly that meant by that: "If he had his pants half down with his underwear showing, if he had his hat turned backwards … walking down the street as if you were drunk … you know, walking funny," he explained. He also claimed that he was in a better position to win the general election than Lhota because he could deliver the "minority" vote. "All the minorities I've been to in the last three months, they love me!" he said, according to Politicker. "I have a love factor with the minorities. I've been to every minority neighborhood, they all give me hugs."
The AP reports that Catsimatidis responded to Lhota's charge that he lacked government experience by explaining, "I've served in government in different ways that I choose not to talk about." For the unconvinced, he added, "I've also served in the (Greek Orthodox) church, and if you talk about church politics, that's much worse than New York City politics." Meanwhile, Lhota defended himself against Catsimatidis's claim that his administration would just be a continuation of Rudy Giuliani's rule by declaring, "This is going to be the first term of Joe Lhota, not the third term of Rudy Giuliani," though Capital reports that he seemed to contradict himself when answering a question about who he'd ask to work with him. "[Former Bronx borough president] Freddy Ferrer, who I worked very very close with both when I was deputy mayor and at the M.T.A., where he was a boardmember, is somebody who I would love to work with again in the Giulia—" he began, before correcting himself, saying, "in the Lhota administration, sorry."
But, perhaps most importantly, Lhota was forced to answer for a controversial statement he made to New York before Labor Day, when he said he would not have stopped train service to rescue beloved vagrant kittens August and Arthur. "I'm not the anti-kitten candidate," Lhota insisted. "Let's talk about the facts, let's talk about the real facts here. First off, as you all know, I have pets. I love pets. I grew up with cats … We have thousands of cats, literally thousands of cats, that are in the subway system every single day, day and night, scurrying across the tracks and they don't get killed." The remark removed all doubt that lost and adorable cats would be left to fend for themselves under a Lhota administration. Unfortunately, polls still show Lhota leading the self-identified Cat Man by a significant margin.