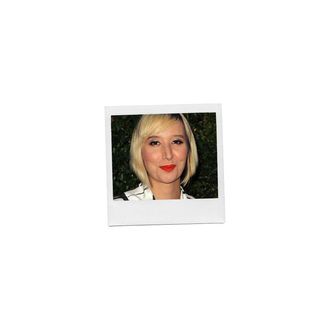 Name: Karen O
Age: 34
Neighborhood: Noho
Occupation: Singer, songwriter, creative collaborator. Next Thursday, September 19, you can catch her band the Yeah Yeah Yeahs at Barclays Center, with Har Mar Superstar opening. Grab a ticket here.
Who's your favorite New Yorker, living or dead, real or fictional?
Did someone say roller disco? Hands down the Central Park Dance Skaters! Few people can make me as instantly ecstatic.
What's the best meal you've eaten in New York?
That's easy: puntarelle at Bar Pitti. Available only in winter months.
In one sentence, what do you actually do all day in your job?
When we're touring I mostly rest my body, rest my voice, wreck my voice, wreck my body.
What was your first job in New York?
I was a clerk at Kim's Video & Music, the one on LaGuardia. I had a manager called Gene Suicide, I wonder where he ended up …
What's the last thing you saw on Broadway?
Book of Mormon, very silly.
Do you give money to panhandlers?
It's first-come, first-served, I'm afraid; cash flies out of the wallet in this city, never have much of it on hand.
What's your drink?
Grey Goose martini, dirty.
How often do you prepare your own meals?
Close to half our meals a week are home-cooked.
What's your favorite medication?
I'd be lying if I didn't say Valium.
What's hanging above your sofa?
A fancy projector.
How much is too much to spend on a haircut?
The same guy has been cutting my locks for the past decade; we have an arrangement. His name is Seiji and works at Ruby 6, if you want to take him for a spin.
When's bedtime?
It's in the ones and twos.
Which do you prefer, the old Times Square or the new Times Square?
I'm a romantic for old-school New York in general.
What do you think of Donald Trump?
Wasn't he orange for a while?
What do you hate most about living in New York?
Mars Bar gone. It's the dive bar I met Nick Zinner in; people say don't get too attached because that's New York, and they are right, but I miss it anyway.
Who is your mortal enemy?
Urban mosquitoes. Where do they breed?
When's the last time you drove a car?
In L.A. at the end of our last tour.
How has the Wall Street crash affected you?
It taught me to enjoy what I earn rather than just put it away in other people's hands.
Times, Post, or Daily News?
Sunday Times.
Where do you go to be alone?
Joshua Tree.
What makes someone a New Yorker?
Someone who's eaten at least one Gray's Papaya hot dog in their life, or considered it.