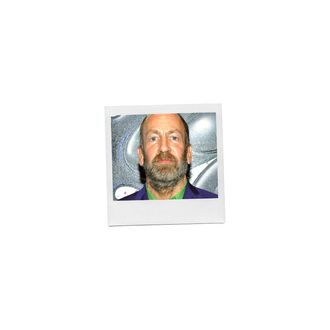 Name: Kenny Scharf
Age: 54
Neighborhood: Brooklyn, "on the border of East Williamsburg and Bushwick."
Occupation: Artist. Next Monday, September 16, he'll be honored at the annual RxArt fund-raiser at the Lever House, and this Friday you can catch him painting a permanent installation in the two-story stairwell connecting the pediatric and adolescent inpatient psychiatric units at Kings County Hospital in Brooklyn. [Editor's note: He doesn't mind spectators. If the hospital lets you in, that is. And you're quiet.]
Who's your favorite New Yorker, living or dead, real or fictional?
Andy Warhol. He's the reason I moved to New York. The first time I met him was the reopening of the Peppermint Lounge. We were both in a group show at PS1 called "New York/New Wave."
What's the best meal you've eaten in New York?
Tereza's home cooking. Tereza is my ex and the mother of my children and a really good cook. She's Brazilian, so she makes great Brazilian food like moqueca, then she also learned how to make Italian food from Alba Clemente, who is a very good Italian cook. My older daughter now is a professional chef, and I think a lot of it had to do with that great home cooking.
In one sentence, what do you actually do all day in your job?
Paint.
What was your first job in New York?
Healthworks salad bar server, when I was 18. I worked there because it was next door. And because I lived next door they let me clean and close the place up, so basically I would take home leftover bags of turkey chunks, vats of yogurt, and cases of Perrier and feed all my friends.
What's the last thing you saw on Broadway?
Angels in America.
Do you give money to panhandlers?
Sometimes.
What's your drink?
Good tequila. I usually like Patrón or Don Julio. I know there's even better brands out there, but I don't know their names.
How often do you prepare your own meals?
Often. I make this weird — I call it "green mud" — it's like a smoothie with fruit and spirulina and a host of other ingredients that are healthy and I feel like keep me in a good state. I have that for breakfast, and I pretty much live on it all day until dinnertime, then I make simple stuff, just stir-fry and steamed things. But really, I find that so much of New York socializing revolves around restaurants, so I'm also out a lot.
What's your favorite medication?
Weed.
What's hanging above your sofa?
Most of the art I have is through trade. Above my sofa I have this Eric Parker painting that I love — I think it's about three years old. I have a Dennis Hopper photograph that must be from the sixties. I have a Basil Wolverton drawing that I think is from the thirties (I didn't trade for that one; that one I actually bought on eBay). And John Sex is somebody who I was very close to, and he gave me a silk-screen collage that uses a lot of popular imagery. I learned a lot from him and his process, and because of him I incorporate a lot of silk-screen collages in my work, too.
How much is too much to spend on a haircut?
I don't have enough hair to spend money on. For a long time I was just using one of those buzzers and just shaving my head every two to three months, but I've graduated to going to a barber. Not a hairstylist place but, like, a barbershop barber. I have a beard now, so I just let them, like, trim me down because sometimes I forget what I look like, and I look at a picture of myself or in the mirror and I'm like, "Oh my God, I look like a madman." So then I go to the barber and say, "Trim me down and make me look less insane."
When's bedtime?
Midnight to 2 a.m.
Which do you prefer, the old Times Square or the new Times Square?
Oh God, are you kidding? One is real and intense and full of stories and flavor, and the new one — I've heard it called the McDonald's-ification — doesn't feel like New York city anymore. It feels like anywhere.
What do you think of Donald Trump?
Seems like a jerk.
What do you hate most about living in New York?
When snow piles up into the black mounds of frozen filth. When the heat, humidity, and dirt are so intense that it sticks to your skin.
Who is your mortal enemy?
If I have one I don't know about it.
When's the last time you drove a car?
Today (I'm in L.A. at the moment). I drive in New York, but I don't have a car in New York. Usually in the city itself I rely pretty much on my bicycle, and when I drive in New York it's to get out to the country. If it's really hot and I want to go swimming, I go to this lake in the Seven Lakes Drive near Bear Mountain. It's only, like, 40 minutes from the George Washington Bridge, and it's a really beautiful place once you get there — you feel like you're in New Hampshire or Vermont. The water is so nice. You feel like you're a million miles away.
How has the Wall Street crash affected you?
It stopped my income for a while. I had a show in London that opened two days after everything crashed. It wasn't exactly fruitful.
Times, Post, or Daily News?
Times. I used to get it delivered, but then I started reading online, which I still do. And then — this is really embarrassing — Facebook started happening, so I started reading my news on Facebook.
Where do you go to be alone?
My studio.
What makes someone a New Yorker?
They have an intense passion for the greatest city in the world.