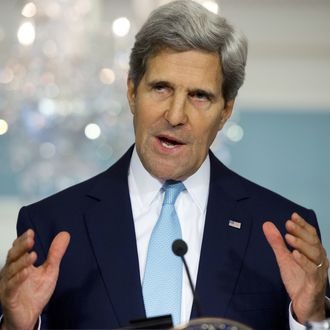 A day after President Obama announced that he intended to seek congressional approval for a military strike on Syria, Secretary of State John Kerry appeared on five Sunday news shows to continue to make the case for action. During his television appearances, Kerry claimed the administration had proof that Syrian President Bashar al-Assad used sarin nerve gas in the August assault that is said to have killed over 1,400 people. "Let me just add that this morning, a very important recent development, that in the last 24 hours, we have learned through samples that were provided to the United States that have now been tested from first responders in east Damascus and hair samples and blood samples have tested positive for signatures of sarin," he said on NBC's Meet the Press.
This is the first time anyone has named a specific chemical agent used in the attack. Kerry wouldn't elaborate on how the U.S. reached that conclusion, though he did say that the evidence had not come from the U.N., which is still conducting its own assessment of materials gathered from the site. He also argued that the U.S.'s credibility would suffer if Obama does not follow through with the attack. "If you don't do it, you send a message of impunity," he said on CNN's State of the Union. The leaders of Iran, North Korea, and Hezbollah "will look at the United States and say, 'Nothing means anything' — that's what's at stake here." For the unconvinced, Kerry went ahead and compared Assad to some of history's other great monsters. "Bashar al-Assad now joins the list of Adolf Hitler and Saddam Hussein who have used these weapons in time of war," he said on Meet the Press.
Kerry was repeatedly asked what Obama planned to do if Congress did not vote in favor of the strike, and he mostly dodged the question. "The president has taken his decision," he said. "He is not trying to create an imperial presidency. I believe that in the end, Congress will do what is right." "We are not going to lose this vote," he said on ABC's This Week. But, as of now, no one is predicting an easy victory for the Obama administration. While a measure authorizing a strike is likely to pass the Democrat-controlled Senate, it will have a more difficult time getting through the House, where a significant number of Republicans (and some Democrats) are skeptical — if not outright opposed to — the idea of intervening in Syria. Neither body will return ahead of the September 9 end of summer vacation to vote on the matter, which means we get a full week of learning everyone's thoughts through press statements and leaks. Still, the grandstanding and infighting is preferable to Obama inserting the country into a war without even trying to get anyone's blessing.