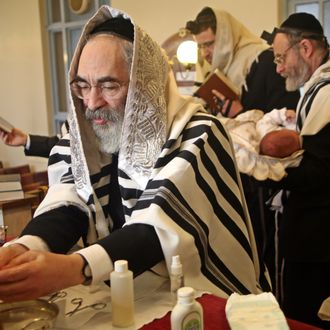 A mohel washes his hands before the ceremony.
Photo: ? Andrew Aitchison
The ultra-Orthodox Jewish metzitzah b'peh ritual is possibly the most awkward topic New York politicians have to discuss, as it forces them to reconcile their feelings on religious freedom, public health, and a mohel sucking blood from a baby's penis post-circumcision. It appears that both Joe Lhota and Bill de Blasio have dealt with the issue by taking both sides. Unfortunately for them, people noticed, prompting the New York Times to seek clarification on whether they agree with New York City Board of Health's decision last year to require parents to sign consent forms before the procedure.
Lhota said in April that consent forms are a "reasonable approach" and "a good thing to do," but last month at a mayoral forum sponsored by The Jewish Press, he declared the Bloomberg administration policy is "absolutely wrong," and parents should only be given information about the risks (the city says thirteen babies have been infected with herpes, and two of them died). When asked about his drastically different comments earlier this week, Lhota said, "My position hasn't changed." Later, his spokeswoman said he's always been in favor of education, but, "After speaking with Jewish leaders early on in his campaign, he gained a better understanding of their concerns and slightly evolved his position so that new parents would receive the information, but not have to sign anything."
De Blasio's shift is less stark. At a forum in May he criticized Mayor Bloomberg for trying to "impose his will," and said that as mayor he'd meet with community leaders and "change the policy to find a way to protect all of our children but also respect religious tradition." At an event this month, he said nothing when a speaker said he'd promised to change the policy "right away." The candidate's spokesman said that was inaccurate, and de Blasio would keep the consent forms until his administration came up with a better policy.
If you were basing your mayoral vote on where the candidates come down on allegedly dangerous circumcision rituals, the Times offers one bit of pertinent information: "the city does not regularly monitor whether officiants actually collect the consent forms." So to be fair to the mayoral candidates, everyone is trying to weasel out of this one.