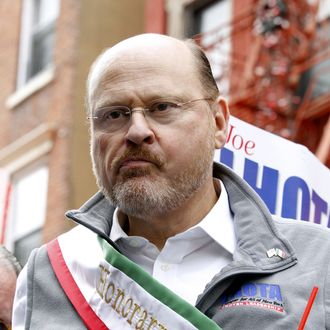 Photo: Angel Chevrestt/ZUMAPRESS.com
Republican mayoral candidate Joe Lhota is down by 40 points, but he's hoping he can turn this thing around by attacking opponent Bill de Blasio's "strategy of ducking the press and public" since winning the Democratic nomination, as well as his support for the Sandinistas several decades ago. De Blasio isn't exactly hiding, since he announced on Tuesday that he'll debate Lhota three times between Oct. 15 and Nov. 5. Lhota found it "incredibly disappointing" that de Blasio rejected his suggestion of five debates in the coming weeks, though three is one more mayoral general election debate than New Yorkers have seen since 1985.
Unsurprisingly, Lhota also hit de Blasio hard on his leftist affinities, saying in light of the New York Times piece on his opponent's youthful activism, "Mr. de Blasio's class warfare strategy in New York City is directly out of the Marxist playbook." Lhota was also concerned by Chiara de Blasio's revelation in an interview with The Cut that she wasn't aware her parents honeymooned in Cuba. "His daughter said it was the most important thing she's learned on this campaign," Lhota said. "One of the things I always do is tell my family the truth."
De Blasio brushed off Lhota's attacks as "increasingly silly," and joked about concealing his commie-loving ways from his family. "We didn't tell our children a lot of things about our honeymoon," he said.