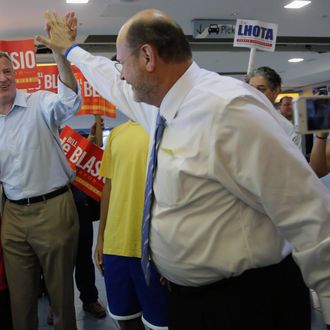 Keep it moving, guys.
Photo: Mary Altaffer/AP/Corbis
When Joe Lhota and Bill de Blasio, each the front-runner in their respective mayoral primary, ran into each other at the Staten Island Ferry on Wednesday, there was no awkward handshake. Instead, the pair covered the niceties with a high five before separating to work the same crowd of commuters returning to the borough. And as they did so, Lhota seized the opportunity to one-up De Blasio on his transit-riding skills. Transportation is, after all, Lhota's home turf as former MTA chairman.
Jill Colvin paints a picture of the strained scene for Politicker:
Mr. Lhota and his volunteers rolled their eyes at the novice Mr. de Blasio, who, at first parked his large team at the choke point right in front of the exit from the ferry, infuriating commuters rushing to catch one of dozens of departing buses outside. Even after they moved into the main terminal, Mr. de Blasio's loud, sign-toting team continued to block commuters.

In contrast, Mr. Lhota, who always appears a little awkward on the stump, stood off to the side, steering clear of the initial running of the bulls-style commuter stampede, and then greeting commutes with an outstretched arm once the pace slows. "Note, for the press report, de Blasio blocked the traffic. We are not," one Lhota volunteer told Politicker.
Lhota reminded passengers that the ferry became free of charge thanks to his work in the Giuliani administration. But according to Politicker, De Blasio received a more positive reception, with a string of supporters greeting him. Lhota, unimpressed, threw him some more shade: "It's the first time I've run into a Democrat on Staten Island," he said, according to the Staten Island Advance. "I don't know whether it's a preview. Let's talk Wednesday, when we know where we all stand."