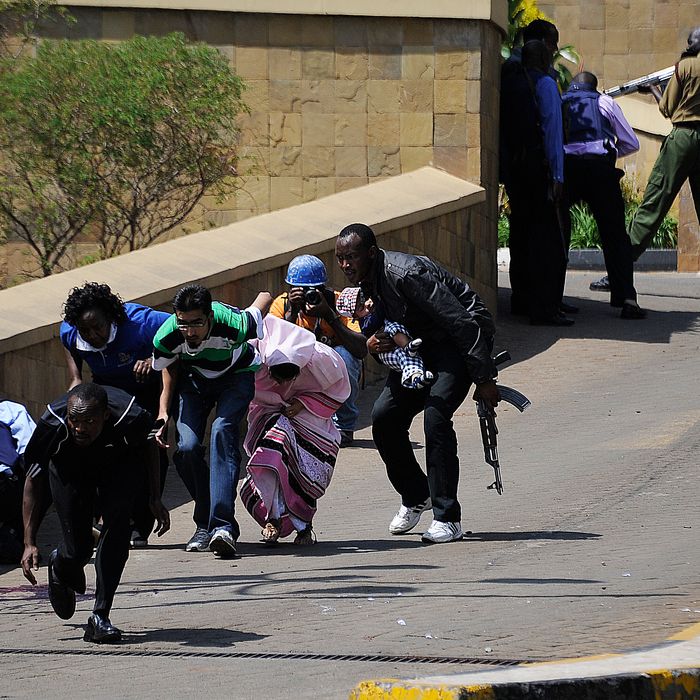 People fleeing the Nairobi mall.
Kenya's typically peaceful capital was rocked today when a militant group entered the Westgate Mall there and opened fire on patrons. According to the secretary general of the Kenyan Red Cross, General Abbas Guled, at least 30 people have been killed and another 60 injured in a horrifying incident that marks the city's most violent scene since the 1998 Al-Qaeda bombing of the American Embassy. This time around, the Somali militant group al-Shabaab, which has ties to Al-Qaeda, claimed responsibility on Twitter, Reuters reports, and the "Westgate spectacle" is now being considered a terrorist attack targeted at non-Muslim Kenyans and Westerners there. (At least one survivor said she heard an attacker telling mall visitors that all Muslims had to leave the area.) The attackers are also reportedly holding some hostages inside the building.
The attack is said to have been carried out by between five and ten militant gunmen who stormed the mall around 11:00 a.m., firing AK-47s, grenades, and other "sophisticated weapons" at shoppers before barricading themselves inside the Nakumatt supermarket. There, Agence France-Presse reported, the gunmen had taken at least seven hostages who were later released, according to a tweet from the Red Cross.
Describing the scene inside, eyewitnesses used the words "gruesome," "carnage," and "terrifying." Mall cleaner Haron Mwachia, who escaped by climbing over a wall, put it plainly: "It was a horrible experience to me, and I was extremely afraid. I've never seen anything like it."
Previously, Somalian President Hassan Sheikh Mohamud told Reuters there wasn't "any proof that the people who did this are Somali," though al-Shabaab has threatened strikes on Nairobi spots popular with expatriates in the past. Local media reported Saturday evening that one wounded suspect was being detained at a hospital and Marie Harf, deputy spokesman for the State Department, confirmed Americans were among those injured.  
Update: In a Saturday night address, Kenyan President Uhuru Kenyatta reported that the death toll reached 39 people with another 150 injured. He added, "I know what you feel having also personally lost very close family members in this attack" and vowed to hunt down the terrorists responsible. According to CNN, there's still a question of how many hostages remain in the Westgate Mall (one journalist on the scene reported as many as 36) as conflicting information from al-Shabaab and Kenyan police is released on Twitter. "The Mujahideen entered #WestgateMall today at around noon and are still inside the mall," the terrorist group wrote. Police countered with, "Attackers of Westgate shopping mall have been isolated and pinned down in a room by security forces in the ongoing operation."